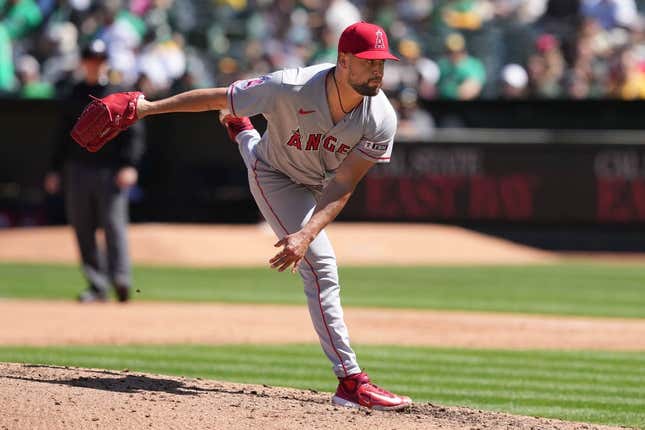 The Los Angeles Angels will open their home schedule against the Toronto Blue Jays on Friday night in Anaheim, Calif
'Soccer fandom is full of gatekeepers' says Ted Lasso actor Brendan Hunt
Left-hander Patrick Sandoval (1-0, 1.80 ERA) will start for the Angels, and if his season debut is any indication, he's not going to be the club's hard-luck pitcher again this season
Last year, Sandoval won just six games in 27 starts despite a 2.91 ERA, in large part the result of a lack of support from the offense. The Angels offense averaged 3.3 runs per game in his starts and scored more than four runs only five times in the 27 starts
During the month of July, the Angels scored a total of six runs over Sandoval's five starts
But last Saturday in Sandoval's season debut, the Angels scored 13 runs against Oakland, considerably more than enough for the Angels' No. 2 starter, who allowed one run and two hits in five innings for the victory
The offensive outburst included an 11-run third inning, a luxury Sandoval isn't used to but was happy to have.
"I was just trying to keep my foot on the gas and make pitches," he said. "It was cool to get 11 runs in that inning. To get through five with an 11-run lead and not screw it up, I'm pretty happy about it."
Angels third baseman Anthony Rendon will not be in the lineup Friday, set to serve the fourth and final game of his four-game suspension, the result of an altercation with a fan in Oakland last weekend
The Angels primarily have used Gio Urshela at third in Rendon's absence, though Luis Rengifo also got a start at third. Brandon Drury is another option for Angels manager Phil Nevin
Rendon spoke with the fan by telephone the day after the incident.
"The gentleman (and I), we spoke on the phone, and we both apologized about what had happened," Rendon said. "And so we're both ready to move forward."
Right-hander Chris Bassitt (0-1, 24.30 ERA) will start for Toronto, his second start of 2023 following a forgettable performance his first time out.
Last Sunday against St. Louis, Bassitt lasted just 3 1/3 innings and allowed nine runs and 10 hits, including four home runs. Bassitt said all six of his pitches were hit hard in the game, and it was his goal to figure out why during his time between starts.
"We'll go over all of it," Bassitt said after the loss to the Cardinals. "Release heights, all of that stuff, see if I was tipping. In any aspect of it, we have a lot of people working on that stuff. We'll figure out what happened."
The Blue Jays enter the game having won three in a row, as Vladimir Guerrero Jr. has been heating up. Guerrero went 7 for 14 during the three wins, including six hits (two homers) in the past two games
No Blue Jay, however, has been hotter than third baseman Matt Chapman, whose 13 hits and six doubles through seven games lead the majors.
--Field Level Media