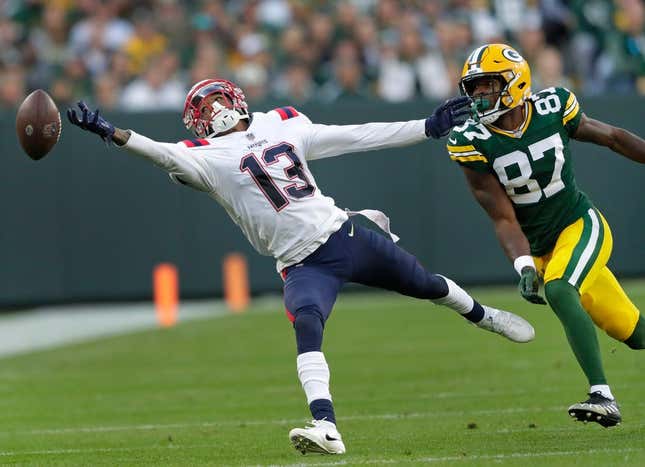 New England Patriots cornerback Jack Jones entered a not guilty plea to gun-related charges on Tuesday at East Boston Municipal Court
Is Texas or Florida State a bigger national title contender? | Agree to Disagree
Jones posted $30,000 cash bond after his Friday arrest and the bail remains in place.
Jones' next court date was set for Aug. 18, a probable cause hearing. It will come one day before the Patriots' second preseason game at Green Bay. The Patriots also plan to practice with the Packers on Aug. 16-17
Jones, 25, was arrested at Boston's Logan International Airport on Friday after two firearms were found in his carry-on luggage. He faces more than 30 years in prison if convicted on all charges and sentenced consecutively on each, according to the Suffolk County (Mass.) District Attorney's office.
"He had no intention of bringing guns into Logan Airport that day," Jones' lawyer, Rosemary C. Scapicchio, told reporters after the arraignment. "And I expect that the evidence is going to show that he had no knowledge of what was going on."
"All Mr. Jones wants to do is play football," Scapicchio added. "He doesn't want to be a distraction at all."
Massachusetts State Police charged Jones with two counts each of possession of a concealed weapon in a secure area of an airport, possession of ammunition without a firearm identification card, unlawful possession of a firearm, carrying a loaded firearm and possession of a large-capacity feeding device.
A fourth-round pick in the 2022 NFL Draft, Jones appeared in 13 games (two starts) as a rookie last season and had 30 tackles, two interceptions, six passes defensed and one fumble recovery.
He was suspended by the team in December for an unspecified violation of team rules, ending his rookie campaign.
Jones was arrested in 2018 while a student at Southern California and charged with a felony for breaking into a restaurant. He ended up accepting a plea bargain to a second-degree misdemeanor and was dismissed by USC for academic reasons. He also was suspended at Arizona State for fighting during practice during the 2020 season.
Scapicchio criticized those on social media who have called Jones a "thug" following his arrest.
"It's the social media, and the media, who have turned him into a thug, who have labeled him a thug, with no evidence whatsoever," Scapicchio said Tuesday. "Because he's a young Black man, all of a sudden, he's a thug. That's what happened here. It's disrespectful to Mr. Jones and every other Black man in America. This is the institutional racism we deal with every day in the court system."
--Field Level Media