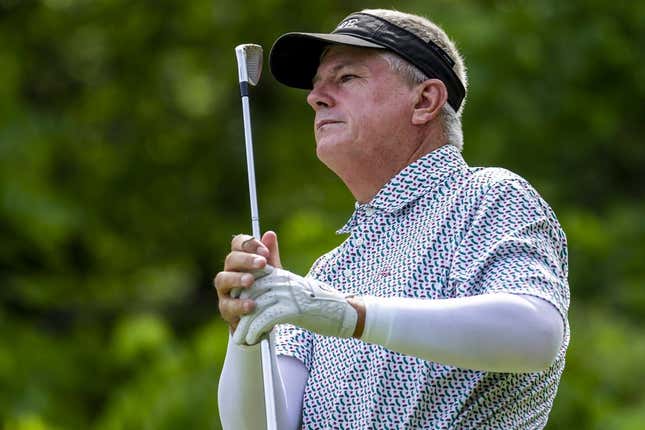 Paul Goydos and England's Darren Clarke each carded a second-round 6-under 66 on Saturday to jump into the lead at the Ally Challenge in Grand Blanc, Mich.
How running an NFL team is like running a restaurant | Chef Emeril Lagasse
After rain caused flooding at Warwick Hills Golf and Country Club, Friday's first round was postponed to Saturday, forcing golfers to play 36 holes. Both Goydos and Clarke shot a 67 in the opening round to sit in a tie for fourth before their second-round performances pushed them to the top of the leaderboard at 11-under 133.
Jeff Maggert, Fiji's Vijay Singh and Paul Stankowski shot 66s to sit in a three-way tie for first after the opening 18 holes.
Singh and Maggert followed with 68s in the second round to drop into a tie for third with Harrison Frazar (second-round 67) and Canadian Stephen Ames (66). All four golfers sit one stroke off the lead.
Stankowski dropped seven spots into a tie for eighth after firing a second-round 71.
Goydos put together a strong front nine in the second round, racking up five birdies. He added two more birdies against just one bogey following the turn before closing his round with three consecutive pars.
"Early in the second round I putted really well. I made a 25-footer on (No. 8) and a 40-footer on (No. 9), and they were just perfect speed, and I made a nice par putt on (No. 10)," Goydos said. "I really putted the ball well.
"You have to drive it good here. When you're playing the ball ball in hand, driving it in the fairway, you get to pick your lie, and I did drive the ball real well, too. I would say I got a little tired coming in, but I think that's understandable at our age, playing 36 holes."
After opening his second round with a birdie, Clarke had to settle for bogey at the par-3 third hole to fall back to even par. But he recovered from there, playing bogey-free golf the rest of the way while collecting six birdies to grab a share of the lead.
"I think today I drove it well, I kept it in play, so gave myself lots of opportunities and putted decent," Clarke said. "Didn't do anything overly special, just played nicely."
Both Goydos and Clarke gave credit to the grounds crew for having the course in playable condition after Friday's storms.
"We've got to give the staff here at Warwick Hills a tremendous round of applause to get the golf course as playable as it was," Goydos said. "I think what they did to get the golf course ready for us to play 36 holes is nothing short of miraculous, so let's get that out of the way."
German Bernhard Langer shot 69-67 and sits alone in seventh, three strokes back.
Shane Bertsch (68), John Huston (66) and Richard Green of Australia (67) are T8 alongside Stankowski. Huston moved up 27 spots after a first-round 71.
—Field Level Media