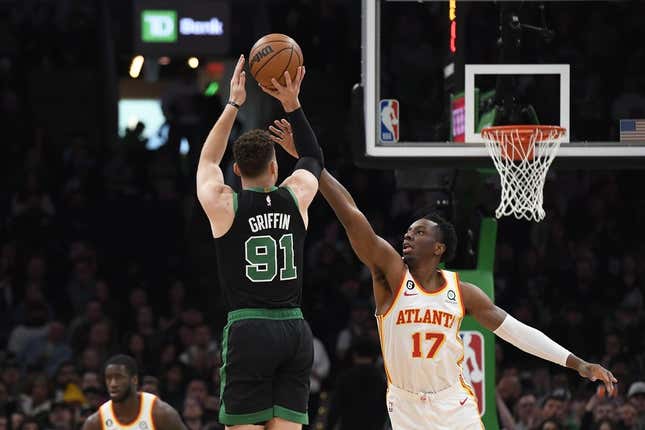 In what may have been a preview of an Eastern Conference playoff matchup, Payton Pritchard had a game-high 30 points, 14 rebounds and 11 assists to help the Boston Celtics defeat the visiting Atlanta Hawks 120-114 on Sunday in the regular season finale for both teams
Bass' ERA stinks, but not compared to who he is off the mound | Worst of the Week Countdown
Pritchard made a career-high nine of his 16 3-point attempts. Boston (57-25) received 27 points from Mike Muscala and a solid boost from Sam Hauser, who established career highs of 26 points and eight 3-pointers.
Bruno Fernando and Garrison Mathews each tossed in 19 points for Atlanta, which earned the No. 8 seed in the Eastern Conference and will face No. 7 Miami on Tuesday in the play-in tournament. If the Hawks (41-41) win that game they will advance and play a seven-game series against the Celtics, who earned the No. 2 seed in the Eastern Conference
If Miami defeats Atlanta on Tuesday, the Hawks will have another chance to extend their season when they play the winner of Wednesday's game between No. 9 Toronto and No. 10 Chicago at home on Friday
The Hawks entered the 2022 play-in tournament as the No. 9 seed and advanced with victories over Charlotte and Cleveland
Atlanta had a 31-29 lead after one quarter and led 64-61 at halftime, but the Celtics outscored the Hawks 39-26 in the third quarter and had a 10-point lead entering the fourth
Both teams entered Sunday's matchup locked into their playoff position, and that was reflected by the talent on the court. The Celtics played without six players who are regularly in their rotation: Malcolm Brogdon (back), Jaylen Brown (finger), Al Horford (back), Marcus Smart (neck), Jayson Tatum (hip) and Robert William (knee). Tatum will enter the playoffs as Boston's leading scorer (30.1 points per game) and rebounder (8.8)
The Hawks rested Trae Young (groin), Bogdan Bogdanovic (knee), Clint Capela (calf) and John Collins (back). Young (26.2) is the team's leading scorer, and Capela leads the Hawks in rebounds (11 per game)
Boston won all three regular season meetings against Atlanta.
--Field Level Media