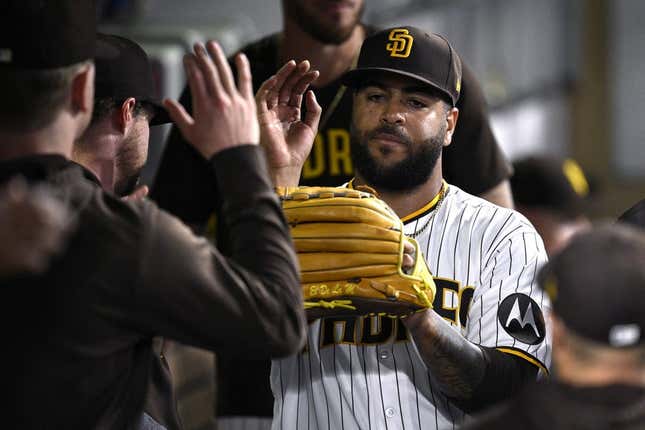 Rookie right-hander Pedro Avila shutout the visiting Phillies on two hits over 6 2/3 innings and Xander Bogaerts had four hits Tuesday night as the San Diego Padres defeated visiting Philadelphia 8-0 to even their three-game series at a win apiece.
How running an NFL team is like running a restaurant | Chef Emeril Lagasse
Left-handers Tom Cosgrove and Ray Kerr followed with 2 1/3 scoreless innings to complete the three-hit shutout and give Avila his first Major League win.
Triggered by Fernando Tatis Jr.'s 23rd homer, the Padres scored three runs in the fourth and four in the sixth against Phillies starter Michael Lorenzen, who continues to struggle since his Aug. 9 no-hitter.
Avila issued six walks and had only one strikeout. But he got 12 ground-ball outs — eight coming on four double plays, including three by Nick Castellanos over a span of four pitches in the first, third and sixth innings. Avila set career highs in innings and pitches (91). His previous longest outing was 5 1/3 innings in his Major League debut on April 11, 2019.
Tatis led off the fourth with a 431-foot homer into the second deck in left — the sixth homer Lorenzen has allowed in his four starts since the no-hitter.
Manny Machado singled with one out in the inning and moved to third on Bogaerts' double. Luis Campusano then hit a sharp grounder to second baseman Bryson Stott, who decided to throw home in an attempt to get Machado. But his throw was wild, allowing Bogaerts to also score.
In the sixth, the first six Padres reached base against Lorenzen, who issued his only three walks in the game during the assault.
Tatis drew a walk to open the inning. Juan Soto followed with a single and Machado walked to load the bases. Bogaerts followed with an RBI single, Campusano hit a two-run single and Bogaerts scored on Matthew Batten's groundout.
Lorenzen (8-9) gave up seven runs (six earned) on eight hits and three walks with a strikeout in six innings.
Bogaerts singled leading off the eighth, moved to third on a Campusano single and scored on Matt Carpenter's sacrifice fly. Bogaerts has 12 hits in his last five games.
—Field Level Media