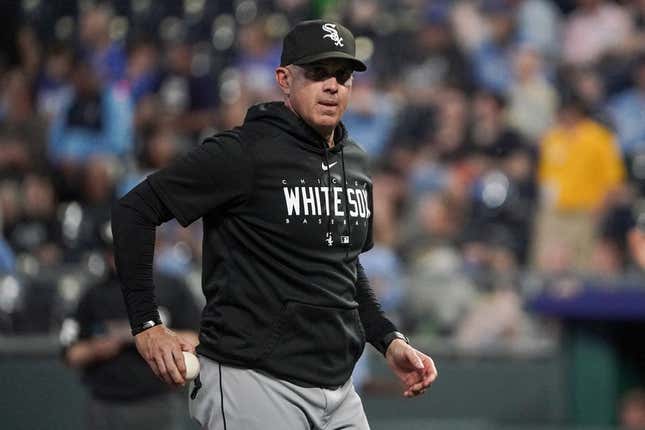 Chicago White Sox first-year manager Pedro Grifol is no stranger to Kansas City
The 53-year-old skipper held various coaching roles with the Royals for 10 seasons, and he will get another chance to lead his new team against his old club when the White Sox continue their four-game series in Kansas City on Tuesday night
Will South Beach Flu give the Heat home court advantage? | Keep it a Buck(et)
"This is a special place for me," Grifol said of the Royals' Kauffman Stadium, where he spent a lot of his time from 2013-22. "We had some great runs and magical moments here. Just to come back to this place, look at the field and see some of the people that I have great relationships with, it's a special moment.
The White Sox stumbled on Monday in the series opener, with the Royals winning 12-5 thanks to their best inning of the season. Kansas City scored eight runs in the sixth to break a 4-4 tie, and they wound up with their top run total of the year
It was a frustrating result for Chicago pitchers, as they surrendered several big hits after getting ahead of hitters.
"When we got them on two strikes, we just couldn't put them away," Grifol said. "They got about seven hits with two strikes."
Lucas Giolito (1-2, 3.67 ERA) will attempt to get the White Sox's rotation back on track on Tuesday when he goes up against Jordan Lyles (0-5, 6.69) in a battle of right-handers
Giolito is 9-5 with a 3.67 ERA in 20 career starts versus the Royals. Lyles is 1-3 with a 4.55 ERA in seven lifetime appearances (five starts) against Chicago
Tuesday's pitchers are trending in opposite directions.
Giolito is coming off a stellar seven-inning performance in which he allowed just one run on two hits against the Minnesota Twins on Thursday.
Lyles has failed to hold a team under seven runs in each of his past two outings. In his most recent start -- a no-decision against the Baltimore Orioles last Thursday -- Lyles gave up eight runs (six earned) on six hits in five innings.
However, Lyles now has a revitalized offense backing him up. Kansas City has scored 52 runs over the first seven games of its current 10-game homestand. The Royals have also mashed 13 home runs during that span, including four from Salvador Perez
Lyles will attempt to give some breathing room to a somewhat banged-up Royals pitching staff that saw left-hander Ryan Yarbrough land on the 10-day injured list on Monday. Yarbrough took a 106 mph line drive to the side of the head on Sunday and sustained multiple fractures around his right eye
"Out on the mound at the time, what he said was, 'I think I'm done. My head is ringing,'" Royals manager Matt Quatraro said. "That makes perfect sense
"We're going to have a lot better idea (of his prognosis) in the next day or so. If you think about broken bones that don't require surgery, they heal within four to six weeks. But that's just for those bones. He has to have activity and those types of things."
Kansas City recalled right-hander Jose Cuas from Triple-A Omaha to take Yarbrough's roster spot, and Cuas picked up the victory in relief on Monday. The Royals also acquired right-hander James McArthur from the Philadelphia Phillies on Monday in exchange for minor league outfielder Junior Marin and cash
--Field Level Media