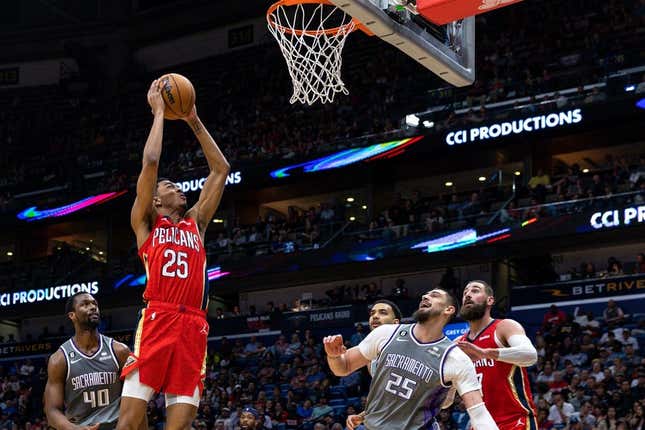 The New Orleans Pelicans came up short in their first attempt to clinch a berth in the Western Conference play-in tournament
Bass' ERA stinks, but not compared to who he is off the mound | Worst of the Week Countdown
They'll try to come back from just their second loss in nine games when they host the Memphis Grizzlies on Wednesday night
"It was not a great game for us," New Orleans coach Willie Green said after his team's 121-103 setback to the Sacramento Kings on Tuesday. "We have to bounce back quickly and be ready for (Wednesday)."
New Orleans (40-39) saw Sacramento take command of the game following a 40-point second quarter.
The Pelicans opened a 14-4 lead before the Kings started making 3-pointers, and New Orleans couldn't keep up. The Kings made 17 of 42 from beyond the arc, while the Pelicans were 7 of 20
"That's a big deficit," Green said. "We have to get that number higher. We have to trust each other, make the right play, and guys have to be ready to shoot it."
Brandon Ingram led New Orleans with 22 points, but that ended a streak of nine consecutive games in which he had scored at least 25. He averaged 30.3 points in that stretch and appeared poised to extend the streak when he scored 14 first-quarter points.
But the Kings began swarming him with multiple defenders, and the Pelicans' offense stagnated
New Orleans is expected to provide an update Wednesday on All-Star forward Zion Williamson, who hasn't played since Jan. 2 because of a strained right hamstring. He was cleared to resume basketball activities last week.
It's unlikely that Williamson will be available Wednesday, but the Pelicans haven't ruled out his return before the end of the regular season Sunday
The Grizzlies (50-29) are nearly locked into the No. 2 seed in the Western Conference after recording a 119-109 victory against the Portland Trail Blazers on Tuesday in Memphis' home finale. The Grizzlies have a two-game lead on third-place Sacramento with three games to play
"Fifty-win seasons are not frequent throughout the NBA," Grizzlies coach Taylor Jenkins said. ... "We've got three more (games) to focus on, but any time you can clip that 50-win mark, it's pretty special.
The Grizzlies started fast and finished strong Tuesday, but in between saw the short-handed Blazers fight back from a 19-point, first-quarter deficit. Portland outscored Memphis 37-25 in the second quarter to pull within 66-62 at halftime
"Our urgency defensively slipped major in that second quarter," Jenkins said.
The Blazers led 101-96 with nine minutes to go, but Desmond Bane made three 3-pointers during a 22-2 Memphis run.
"For us to be able to stay together and come back and get a win was big-time," said guard Ja Morant, who scored 23 points for the Grizzlies
"Obviously everyone's going to be talking about the standings and (playoff) matchups," Jenkins said. "Who knows who the heck you're going to play in the first round?
"Right now we've got a lot of stuff to work on. We've got to control our own business."
Memphis leads the season series with New Orleans 2-1. The home team has won each game.
--Field Level Media