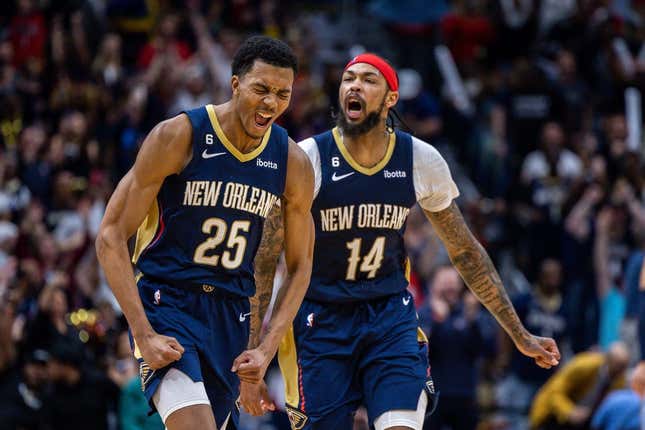 The New York Knicks' postseason status is set with two games left in the regular season
'Soccer fandom is full of gatekeepers' says Ted Lasso actor Brendan Hunt
The New Orleans Pelicans, meanwhile, know they will be playing beyond the regular season, but they don't know many details. The outcome of their regular-season home finale against New York on Friday night will help clarify what lies ahead
The Pelicans (41-39) clinched a spot in the Western Conference play-in tournament and at least the No. 9 seed when they won a crazy game against visiting Memphis, 138-131 in overtime Wednesday night
New Orleans trailed by 19 points late in the second quarter, surged ahead in the fourth quarter, then lost a six-point lead in the final five seconds of the fourth quarter to find itself in overtime.
Trey Murphy III made two 3-pointers to start the scoring in the extra period and the Pelicans scored the first 10 points to take control
"We faced adversity, we just kept fighting and believing in each other," said guard Herbert Jones Jr., who led the team with a career-high 35 points. "We came out with the win."
New Orleans, which finishes the regular season at Minnesota on Sunday, could still finish anywhere from No. 5 to No. 9 in the West. It has strengthened its position by winning eight of its last 10 games.
"One game at a time is the only mindset we had," Murphy said. "We don't have to look at the standings and we can figure out our own destiny. Just do our own job, that's it."
The Knicks (47-33) are going to be the No. 5 seed in the Eastern Conference playoffs and face No. 4 Cleveland in the first round
In the meantime, New York's focus is on getting healthy.
Forward Julius Randle, the Knicks' leading scorer and rebounder (25.1 points, 10.0 rebounds per game), remains sidelined and will miss at least the last two games of the regular season because of a left ankle sprain. Guard Jalen Brunson (hand) sat out a 138-129 victory at Indiana on Wednesday night, and RJ Barrett (illness) has missed the last two games
Against Indiana, Immanuel Quickley scored 39 points and Quentin Grimes had a career-high 36.
"He's shooting the ball with a lot of confidence," New York coach Tom Thibodeau said of Grimes. "He's flying around the floor, guarding people. His confidence is growing game by game.
"They are rhythm shots and that's what I like about the way we are playing right now. We are creating rhythm for each other. When you play like that good things will come from that."
Obi Toppin scored 32 points and Mitchell Robinson added 14 points and 16 rebounds, helping the Knicks compile a 52-37 rebounding advantage
"Mitch had a monster game," Thibodeau said. "The rebounding with Mitchell was unbelievable."
While the Pelicans will be trying to improve their postseason positioning, the Knicks, who finish the regular season at home against the Pacers on Sunday, will be trying to sharpen their game for the playoffs regardless of who's available
"We have to look to New Orleans now," Thibodeau said. "We want to play our best going into the postseason."
--Field Level Media