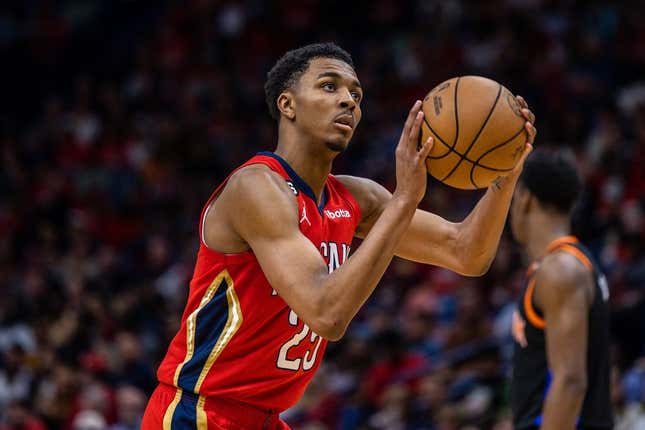 The New Orleans Pelicans and the Minnesota Timberwolves are both going to the Western Conference playoffs, but they both have unfinished business when they meet in their regular-season finale Sunday afternoon in Minneapolis
Aaron Rodgers should go full Joe Namath | Comedian Bert Kreischer
The Pelicans (42-39) can finish anywhere from No. 5 to No. 9 and the Wolves (41-40) will finish either No. 8 or No. 9 depending on Sunday's result. The outcome of Sunday's game will determine the head-to-head tie-breaker, which will come into play if Minnesota wins
The teams split the first two meetings, both of which were played in New Orleans. The Pelicans won 119-118 on Dec. 28 and the Wolves won 111-102 on Jan. 25
New Orleans has won nine of its last 11 games after a 113-105 victory in its regular-season home finale against the New York Knicks on Friday. That gave the Pelicans their first winning record since the 2017-18 season
"It's a tremendous blessing to have a winning record," Pelicans coach Willie Green said. "I said it to our guys in the locker room, it's hard to win in the NBA. It really is, so to have a group of guys that are connected, enjoy playing for each other and in five seasons we haven't done it, so it's a huge accomplishment.
Brandon Ingram has mostly led the way during the surge, but second-year players Trey Murphy III and Herbert Jones Jr. have been the top performers in the last two games.
Murphy had 31 points against the Knicks two nights after he had 30 in an overtime victory against Memphis. It's the first time Murphy has scored 30 or more points in consecutive games.
Jones had a career-high 35 points against the Grizzlies and had 15 on 7-for-7 field-goal shooting against the Knicks. He contributed five points, two rebounds and a blocked shot as the Pelicans finished the game on a 14-5 run in the final 4:50
"After the All-Star break, every game has meant a lot in the Western Conference standings," Murphy said. "We are going to treat (Sunday's game) like every other game -- playoff atmosphere and playoff game."
Minnesota is finishing the regular season on a back-to-back after a 151-131 victory over San Antonio on Saturday in Austin, Texas.
The Wolves set a franchise record for points in a game, breaking by one point the scoring record they set in a victory against the Chicago Bulls in December.
Anthony Edwards scored 33 points to lead seven double-figure scorers and Minnesota made a season-high 24 3-pointers. The Wolves shot 55.4 percent from the floor and 55.8 from beyond the arc, with 42 assists on 56 baskets.
"We needed a game like that," guard Mike Conley told Bally Sports North. "From the first tip of the game our mindset was in the right place, just being unselfish. We play well when we're unselfish, making plays for each other."
Minnesota won its second consecutive game after a three-game losing streak had put the team's postseason chances in jeopardy.
"There's a lot at stake (Sunday)," coach Chris Finch said. "We're at home. It's all we can ask for. It's going to be a tough game."
--Field Level Media