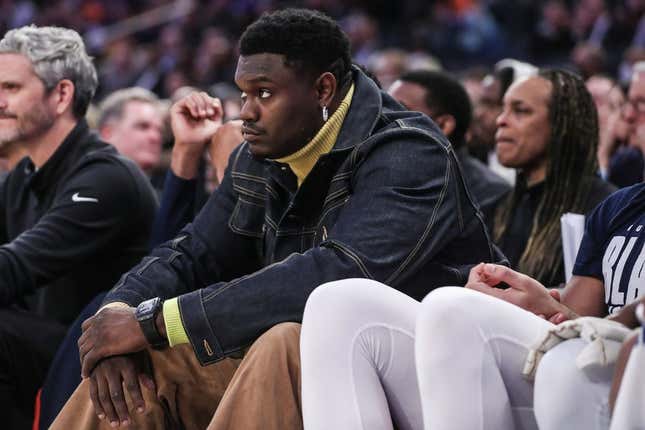 If the New Orleans Pelicans are to make a run through the postseason, they'll be doing it without Zion Williams
Does Jimmy Butler have the best NBA Finals origin story? | Agree to Disagree
Pelicans executive vice president David Griffin told reporters Friday that Williamson isn't ready to return from the hamstring injury that has sidelined him since Jan. 2. So should the Pelicans wind up in the play-in tournament, which begins Tuesday, the 22-year-old All-Star won't play, Griffin said
New Orleans still has a chance to avoid the tournament and finish with the No. 6 seed in the Western Conference, but they will need wins on Friday against the New York Knicks and on Sunday at the Minnesota Timberwolves - plus some help - to do that.
"It's disappointing for everybody, disappointing for him, disappointing for his teammates," Griffin said of Williamson's prolonged absence. "I think it's just a matter of all of the objective metrics we have on where he's at and how he feels ... lining up. If they had, we'd have said he's cleared for five-on-five. They haven't converged for us to do that."
Even if the Pelicans advance to the playoffs, there are no guarantees Williamson will play
"Our best possible outcome - if everything lined up perfectly - maybe you're in position to practice either prior to a first-round (series) or during a first-round (series). But it's going to take more than one (practice to prepare for games). And again, we may never get to that point either, where all of those things align and he feels the way he needs to feel."
Griffin said Williamson hasn't had a setback with the injury or reported any soreness. He just has a "hesitancy" about him.
"You can see when someone is trusting it and confident. (Williamson is) not in that space right now," Griffin said.
The No. 1 pick in the 2019 NBA Draft, Williamson has averages of 26.0 points, 7.0 rebounds, 4.6 assists and 1.1 steals in 29 starts this season. He is shooting 60.8 percent from the floor.
Williamson missed all of last season after having surgery on a broken foot. He had missed eight games in 2022-23, including three in December while in health and safety protocol, before the hamstring injury.
In four seasons, Williamson has played in just 114 games (all starts). He averages 25.8 points, 7.0 rebounds and 3.6 assists.
--Field Level Media