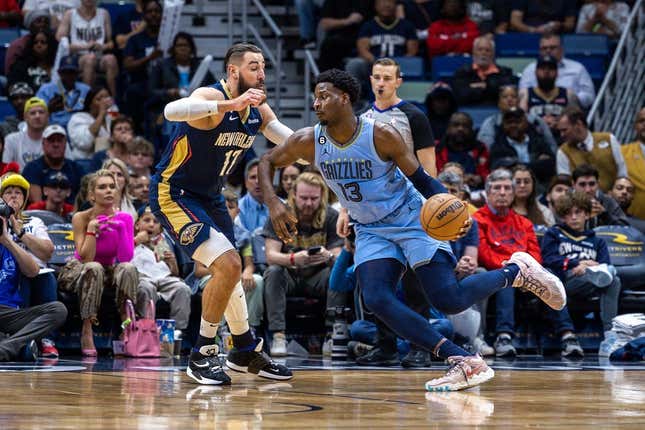 Herbert Jones Jr. scored a career-high 35 points and the host New Orleans Pelicans overcame a 19-point deficit and a blown six-point lead in the final 11 seconds of regulation to clinch a spot in the Western Conference play-in tournament with a 138-131 overtime victory against the Memphis Grizzlies on Wednesday night
Bass' ERA stinks, but not compared to who he is off the mound | Worst of the Week Countdown
CJ McCollum added 31 points and 10 rebounds, Trey Murphy III scored 30 points and Brandon Ingram had 24 for the Pelicans (41-39), who are assured of no worse than the No. 9 seed
Jaren Jackson Jr. scored 40 points, including two free throws in the final second to force overtime, Dillon Brooks added 25, Desmond Bane had 24, Tyus Jones had 13 points and 12 assists and John Konchar scored 10 points to lead the Grizzlies (50-30), who played without seven players, including Ja Morant (left hip soreness)
Murphy started the overtime scoring by making back-to-back 3-pointers, and New Orleans scored six more points for a 10-point lead with just under two minutes left.
The Pelicans failed to add to a 124-118 lead when Murphy missed a free throw with 11 seconds left in regulation
Brooks made a 3-pointer with 4.7 seconds left, and Ingram was called for an offensive foul on the ensuing in-bounds.
New Orleans fouled Bane to prevent a potential tying 3-pointer, and he made the first free throw and intentionally missed the second. The strategy worked, as Jackson grabbed the offensive rebound, was fouled and made two free throws with 0.4 seconds left.
The Grizzlies began the fourth quarter with an 11-2 run that gave them a 101-87 lead
Murphy made three consecutive 3-pointers to pull New Orleans within three. After a basket by Brooks, McCollum made two 3-pointers and Jones and Murphy made one each to give the Pelicans a 111-107 lead
Memphis scored the next six points to regain the lead, but Ingram made a jumper and two free throws to give New Orleans a 115-113 lead with 2:26 left.
The Grizzlies, who led by 19 late in the second quarter, got within one point three times before Ingram made two free throws and a jumper for a five-point lead with 13 seconds left
--Field Level Media