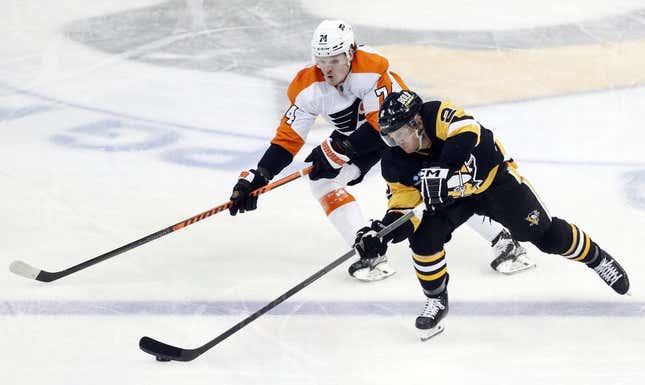 Rickard Rakell scored twice Sunday to lead the Pittsburgh Penguins past the visiting Philadelphia Flyers 4-2
Bass' ERA stinks, but not compared to who he is off the mound | Worst of the Week Countdown
The Penguins (38-29-10, 86 points) leapfrogged Florida (85 points) to move into the Eastern Conference's second wild-card spot by one point and climbed within one point of the New York Islanders, who hold the first wild-card spot
Bryan Rust and Ryan Poehling also scored, and Evgeni Malkin, Sidney Crosby and Brian Dumoulin each had two assists for the Penguins, who have won two of their past three games
Pittsburgh goaltender Casey DeSmith made 31 saves.
Nicolas Deslauriers and Travis Konecny scored for the Flyers (29-34-13, 71 points), who have lost three straight (0-2-1)
Philadelphia rookie goaltender Samuel Errson made 27 saves.
Pittsburgh defenseman Kris Letang played in his 1,000th career game. He played 31:10.
Philadelphia played without defenseman Rasmus Ristolainen, who was ruled out because of an upper-body injury.
Flyers coach John Tortorella was back behind the bench after watching the previous two games from the press box while his assistants ran things
The Penguins opened the scoring with a fluky goal. Rakell's shot from the top of the slot sailed over the net, hit the glass, rebounded into the crease and went in off Errson's back to make it 1-0 at 11:40 of the first
Rakell struck again during a power play at 14:53 of the first. This time, he used the heel of his blade on a Malkin pass to deflect in the puck, giving Pittsburgh a 2-0 lead and Rakell six points in five games.
Rust, playing in his 500th game, made it 3-0 at 13:23 of the second. From the top of the right circle, Crosby fed Rust for a short breakaway, and Rust swept a backhander over Errson's blocker, giving him three goals in two games.
Deslauriers cut it to 3-1 at 5:57 of the third when, from the slot, he punched in a feed from Tony DeAngelo. Konecny then pulled the Flyers to within 3-2 with 2:29 left when he poked a one-timer over DeSmith's glove with Errson out of the net
Poehling scored an empty-netter with 1:12 left.
--Field Level Media