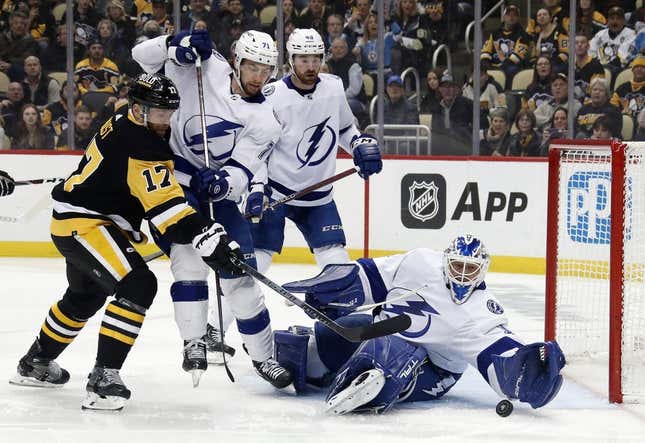 Evgeni Malkin, Sidney Crosby and Brian Dumoulin each had a goal and an assist, and the Pittsburgh Penguins let loose with six unanswered goals in the second period on Sunday to topple the visiting Tampa Bay Lightning 7-3.
Drew O'Connor, Teddy Blueger, Jason Zucker and Jeff Carter also scored, and Marcus Pettersson, Kris Letang and Jeff Petry each added two assists for the Penguins, who won their second straight.
Pittsburgh goaltender Casey DeSmith made 26 saves.
Nikita Kucherov and Brayden Point each had a goal and an assist, and Anthony Cirelli also scored for the Lightning, who had their three-game point streak snapped.
Tampa Bay goaltender Brian Elliott made 29 saves.
The Lightning played without defenseman Erik Cernak, who served the second game of a two-game suspension.
O'Connor got things started at 3:20 of the first, giving the Penguins a 1-0 lead when he deflected Pettersson's rising point shot past Elliott's glove.
Tampa Bay tied it at 16:06 of the first when a rebound of Zach Bogosian's shot bounced in off Cirelli's knee.
The Lightning took a 2-1 lead 1:59 later during four-on-four play when Kucherov picked up his 700th career point when he put in his own rebound on a backhander.
Pittsburgh then went wild in the second.
Malkin got a breakaway coming out of the penalty box and scored under Elliott's pads at 6:17 to tie it.
On a power play at 15:28, Crosby reached 70 points for the 13th time in his career when he took a backhand feed from Jake Guentzel ad scored from near the right post.
Blueger scored his first goal in 33 games, finishing off a rebound with Elliott pulled out of position, to make it 4-2 at 16:20.
At 17:50, Carter scored his ninth goal of the season when he roofed a shot from the right dot.
Zucker's goal on a backhander made it 6-2 with 1:23 left in the second, and Dumoulin got his first of the season on a blast through traffic with 4.2 seconds left.
Point's power-play goal at 7:57 of the third cut it to 7-3.
--Field Level Media