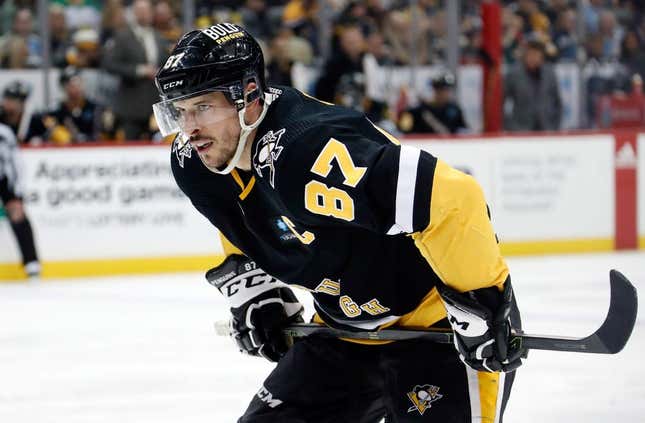 The Pittsburgh Penguins already knew their game against the visiting Chicago Blackhawks on Tuesday night would be a backs-against-the wall situation
How running an NFL team is like running a restaurant | Chef Emeril Lagasse
The meaning of that game was underscored by the time the Penguins retired for the night on Monday
The race for the two wild-card spots in the Eastern Conference has involved three main teams for some time. The Penguins dropped below the playoff cutoff line last week and briefly lost control of their destiny
The New York Islanders' 5-2 loss at the Washington Capitals on Monday put New York a point behind the Florida Panthers, who dropped a 2-1 decision in overtime against the Toronto Maple Leafs. The Islanders (41-31-9, 91 points) and Panthers (42-31-8, 92 points) each have one game remaining.
That means the Penguins (40-30-10, 90 points) are back in control of their playoff destiny. If they defeat the Blackhawks on Tuesday and the Columbus Blue Jackets on Thursday on the road, they will finish at least ahead of the Islanders and secure a postseason berth
A survey of several Penguins players Monday after practice by Pittsburgh Hockey Now showed they had little interest in actually watching the Islanders' and Panthers' games that night -- "Is it on Netflix? No, I won't torture myself," defenseman Jan Rutta said
That said, the Penguins certainly know they need to beat two of the worst teams in the NHL in their last two regular-season games
"I'm sure I'll keep an eye out (on Monday's scores)," Penguins captain Sidney Crosby said. "But it doesn't change what we have to do. Obviously, we've got to worry about ourselves.
After losing eight of 12, the Penguins stacked together complete performances in a 4-1 win over the Minnesota Wild on Thursday and a 5-1 victory versus the Detroit Red Wings on Saturday
Chicago (25-49-6, 56 points) lost for the 11th time in 12 games on Monday. The Blackhawks squandered a third-period lead in a 4-2 setback to the Wild
Now comes a road game on back-to-back nights against a desperate Pittsburgh team.
A cynic might say the Blackhawks are gaining in the "race" to finish last overall and secure the best odds of winning the top overall pick in the draft in the lottery. Chicago will finish the season against the Philadelphia Flyers on Thursday
The other teams with a shot of finishing last overall are the San Jose Sharks, Anaheim Ducks and Columbus.
Chicago's future is murky. There already have been big names traded amid a youth movement, and team captain Jonathan Toews has hinted he might not be back next season.
"Everyone is facing different challenges based on where you are in your career, what type of player you are and what you're up against," Toews said. "I think when you see young guys coming in with that energy every day, it's definitely contagious, and we can feed off of it for sure."
So the Blackhawks are trying to stay in the moment
"Everyone's still got something to play for," forward Andreas Athanasiou told the Blackhawks website. "No matter what the circumstances are, we want to try to get a win.
--Field Level Media