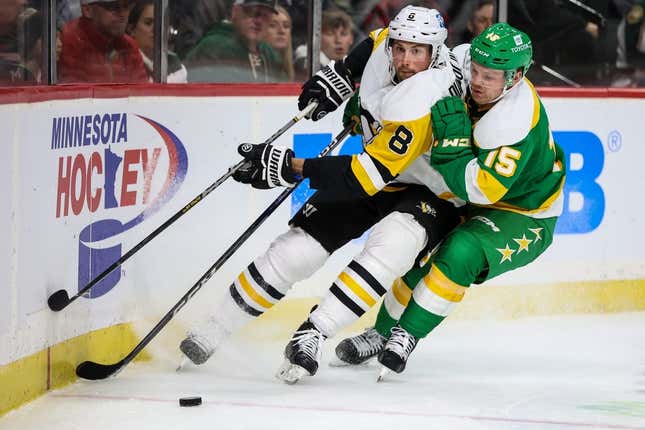 The visiting Minnesota Wild and Pittsburgh Penguins will both be pushing toward clinching something when they meet Thursday
Does Jimmy Butler have the best NBA Finals origin story? | Agree to Disagree
Minnesota (44-23-10, 98 points) secured a playoff spot this week but is still in a tight race for the Central Division title. The Wild, Colorado and Dallas each sit at 98 points, although the Avalanche have a game in hand on the other two, and the Stars hold the tiebreaker over Minnesota
Because the Wild don't control their own destiny, coach Dean Evason is asking his club to take a shorter view
"We're going to play every game to get two points. That's what we're going to do," Evason said. "We're not focused on getting higher in the standings; we're focused on getting two points."
With five games remaining, there is confidence that will happen.
"We're going to win every game," winger Matt Boldy predicted, per the St. Paul Pioneer Press. "If (winning the division) is the outcome, then that's the outcome."
Minnesota had a shot at the Western Conference title, but that faded to a real longshot with two losses, one in regulation and one in a shootout, against the Vegas Golden Knights in a home-and-home series.
"We want to play good going forward here and into the playoffs," center Joel Eriksson Ek told the Pioneer Press. "It's just about working and playing our game, and coming up with some wins here."
Pittsburgh (38-30-10, 86 points) is in a more desperate situation.
The Penguins dropped out of a playoff spot Tuesday when they got walloped at New Jersey, 5-1. Florida moved a point ahead of them for the second and final wild-card spot in the Eastern Conference with its win against Buffalo
Like the Wild, the Penguins no longer control their destiny. But unlike the Wild, the Penguins are looking hard at missing the playoffs, which would end a 16-year run
That streak is the longest active one for making the playoffs in all of North American pro sports.
Pittsburgh lamented its performance against the Devils. The team was coming off a weekend in which it played toe-to-toe in a loss to Boston, the top team in the NHL, and was in top form in a win against Philadelphia.
"We got outplayed," coach Mike Sullivan said.
But the Penguins also vowed to deep-six the sore feelings from Tuesday
"We can't take any time to dwell on it," said winger Bryan Rust, who scored against the Devils. "We have to get back on the horse, and we have to be better.
"We only have so many games left to make our push and get into the playoffs. I don't expect any carry over (from Tuesday). ... We're going to bring it on Thursday."
Since a five-game losing streak last month (0-4-1), Pittsburgh has alternated wins and losses for the past eight games.
Now there are four games left, and Minnesota is the only playoff team of the four opponents.
"We're going to have to stay in the fight here. We're still in it," Sullivan said. "That's the way we have to look at it."
--Field Level Media