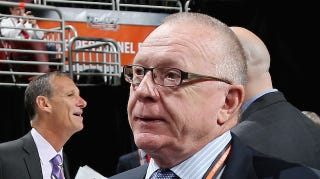 The Pittsburgh Penguins lost 2-1 to the New York Rangers last night, putting them at a one-game deficit in their playoff series and just two more losses away from elimination. These are stressful times for players and executives alike, and Penguins GM Jim Rutherford let the loss get the better of him.
According to Trib Live columnist Rob Rossi, Rutherford was feeling punchy after the game:
After exiting a media elevator and while walking with other reporters to the Penguins' dressing room, Rutherford addressed this columnist, a frequent critic since his hiring last June, in an obscenity-laced diatribe.

"Thanks for your support," Rutherford said repeatedly.

"You're a (expletive) jerk," Rutherford said repeatedly.

Rutherford followed the jerk comment with a suggestion to "go sell ice cream now," then a challenge to look him in the eye, which I did while explaining my role as Trib Total Media's lead sports columnist.

My role is to provide opinion.

"Well, your opinion is (expletive)," Rutherford said.
Under normal circumstances, this might have qualified as a half-decent meltdown, but on the night when Bryan Price was out there dropping 77 "fucks" on some poor reporter's head, Rutherford needed to come with something stronger than "Go sell ice cream now." That's a weak burn, man.