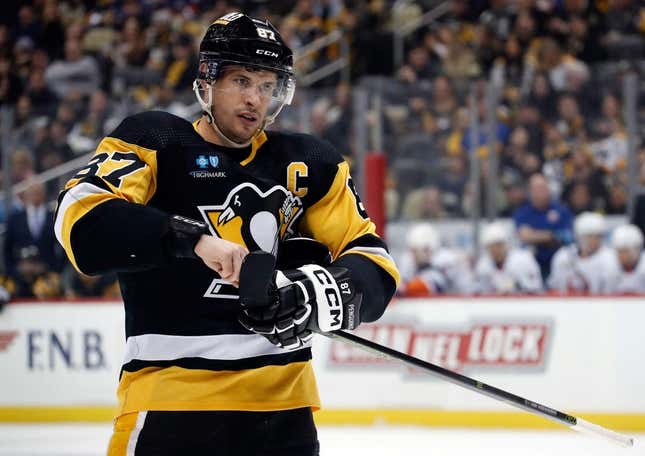 The New York Islanders would seem to have an edge going into their Metropolitan Division showdown Thursday on the road against the Pittsburgh Penguins.
Is Texas or Florida State a bigger national title contender? | Agree to Disagree
The teams are thick in a playoff chase in the Eastern Conference and currently hold down the two wild-card spots. The Islanders are a point ahead of the Penguins, but Pittsburgh has three games in hand.
Then there is this: New York has won all three meetings between the clubs, all in regulation, by a combined 13-6 score, with just one game as close as one goal.
Both teams are coming off wins Tuesday that could help bolster their confidence.
The Islanders beat another playoff hopeful, Buffalo, 3-2, with coach Lane Lambert saying his team "imposed our will."
Will that carry over to another big game in Pittsburgh?
"I think the bigger the game, the more you want to get it done," said New York forward Josh Bailey, who had a goal and an assist against the Sabres.
"This is a fun time of year. I think every game's going to keep getting bigger and bigger. We've got to embrace that, keep moving forward."
The Islanders have won two in a row and are 6-2-2 in their past 10 games. For the past seven games they have been without one of their top forwards, Mathew Barzal, who has a lower-body injury and is not expected back until the tail end of the season.
New York center Jean-Gabriel Pageau, who is on IR because of an upper-body injury, is considered day-to-day and could travel to Pittsburgh.
It's a big week for the Islanders, one that started against Buffalo, continues at Pittsburgh and then includes another Metropolitan Division foe, Washington.
"We knew coming in there was a lot on the line," team captain Anders Lee said. "There are a few teams vying for those last couple (playoff) spots, and we're one of them."
So is Pittsburgh, which has won five of its past six games.
The Penguins are coming off a game Tuesday that went from sideways to rousing. They trailed 4-0 against Columbus, the last-place team in the league, before scoring five unanswered goals, including captain Sidney Crosby's winner in overtime.
"Every win builds confidence," said Pittsburgh goaltender Casey DeSmith, who took the win against the Blue Jackets in relief of No. 1 goalie Tristan Jarry.
"Wins like (Tuesday's) maybe even build more confidence because it's definitely harder to come back when you're down four than it is to play a whole game well."
Pittsburgh coach Mike Sullivan would prefer the latter, but he learned about his team's resilience as the Penguins erased a four-goal deficit for the first time since Dec. 11, 2006 against Washington.
"We've had a lot of conversations; now it's about acting," Sullivan said. "You've just got to go out there and perform. And we've got to stay in the moment.
"It's not always going to go the right way. We're going to have struggles. We've got to work through them."
The Penguins dressed only 11 forwards and seven defensemen, and that was with an emergency recall of forward Alex Nylander. They could get back two forwards Thursday. Bryan Rust was excused Tuesday for the birth of a child, and Mikael Granlund was ill.
--Field Level Media