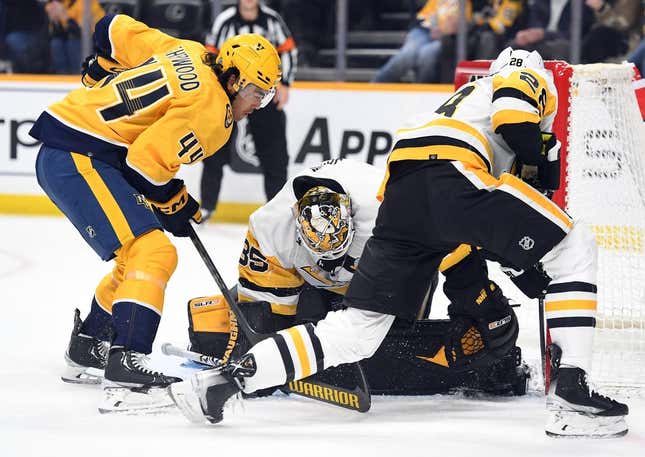 Jason Zucker scored the go-ahead goal with 1:39 left in regulation Tuesday as the visiting Pittsburgh Penguins topped the Nashville Predators 3-1.
Zucker scored from near the bottom of the right circle on a shot that went in off goaltender Juuse Saros' skate. Bryan Rust added an empty-netter with 6.4 seconds left.
Sidney Crosby also scored for the Penguins, who won their third straight.
Pittsburgh goaltender Tristan Jarry, in his fourth game back from a nine-game injury absence, made 24 saves, while Saros made 31.
Mark Jankowski scored for the Predators, who had their three-game winning streak snapped. Friday's looming NHL trade deadline had an impact on the teams' lineups, particularly Nashville.
The Predators, already busy this week, traded away defenseman Mattias Ekholm to Edmonton hours before the game. Defenseman Cal Foote made his Predators debut after being acquired from Tampa Bay.
Pittsburgh has not made a trade in recent days, but earlier Tuesday the club placed winger Brock McGinn on waivers. Teams have until Wednesday afternoon to claim McGinn, yet, as league rules allow, he was in the lineup. He had an assist.
It was a goalie duel from the start, thanks in part to Jarry stopping Predators center Mikael Granlund with a blocker save on a breakaway in the game's first minute.
Jarry made 17 saves, Saros nine in the first period. That pretty much flipped in the second, when Saros made 17 saves and Jarry had five as nobody scored in the game's first 50-plus minutes.
Finally, the Predators broke through at 7:01 of the third.
Penguins defenseman Kris Letang, from the far side of the left circle, attempted a cross-ice pass that hit the body of Jankowski, who was in the slot. Jankowski, a former Penguins forward called up because of the Nashville trades, collected the puck moved toward the crease, deked right, then beat Jarry stick side.
Crosby tied it at 11:00 of the third. McGinn, with his first point in 27 games, set up the Penguins captain for a breakaway in the high slot. Crosby beat Saros between the pads.
--Field Level Media