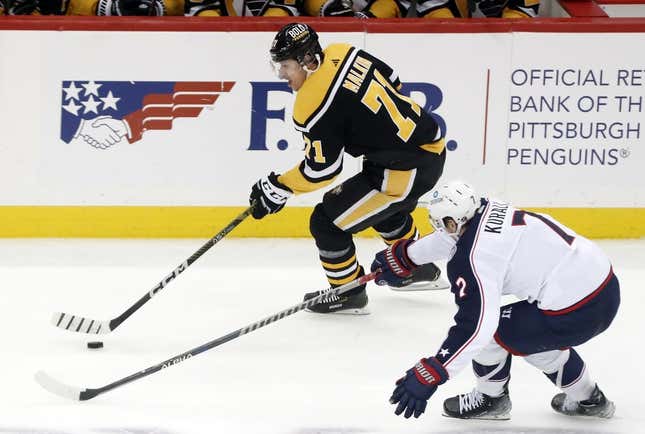 The Columbus Blue Jackets will be relegated to playing spoiler Tuesday when they visit the Pittsburgh Penguins, a team in the thick of a playoff chase.
How running an NFL team is like running a restaurant | Chef Emeril Lagasse
The Blue Jackets sit last overall in the NHL, while the Penguins are one of several teams in the Eastern Conference trying to lock down a wild-card playoff spot or better.
Pittsburgh is looking to bounce back from a 4-1 loss Saturday at Florida, a game that snapped the Penguins' four-game winning streak.
The Penguins have had a tendency to be streaky -- the four-game winning streak followed a four-game losing skid -- and so they are trying to guard against things heading in the wrong direction.
"We need to get back home and start winning again," Pittsburgh center Evgeni Malkin said.
After a three-game road trip, the Penguins kick off a five-game homestand against the Blue Jackets, the first four of those against fellow Metropolitan Division clubs.
With 20 games remaining, this homestand could go a long way in determining whether Pittsburgh makes it to the postseason for a record 17th straight season, and, if so, in what position.
That, the Penguins feel, will be dependent on how assertive they are.
"Coming down the stretch here, we need to be able to go into games and set the tone in the game, force teams to defend the style of game we want to play rather than chasing it," Pittsburgh defenseman Jeff Petry said.
The Penguins, leading up to last week's trade deadline, added forwards Nick Bonino and Mikael Granlund to their lineup, and defenseman Dmitry Kulikov could make his debut with the team Tuesday if he can displace one of the six defensemen who have been playing regularly.
Figuring out exact lineup details will be done concurrently with trying to play at the highest level.
"The stakes get higher with every game that we get under our belts," Pittsburgh coach Mike Sullivan said. "We're in a fight here to make the playoffs, and every game is going to be a high-stakes game. We have to bring the urgency."
The Blue Jackets don't have the playoffs as motivation, but they still are trying to make something of the stretch run.
Their 5-2 loss Saturday at Ottawa was their second defeat in as many nights. Winger Patrik Laine, who scored against the Senators, accused his team of "just sleeping for 60 minutes."
The Blue Jackets will have to try to salvage something from the balance of their season largely on the road. Of their 13 games in March, 10 are on the road.
And many of their games, as with Ottawa and Tuesday against Pittsburgh, will come against teams headed to the playoffs or fighting to do so.
That's something perhaps Columbus can exploit.
"(Ottawa) is fighting for something, you know?" said Blue Jackets center Jack Roslovic, who also scored against the Senators.
"Those are the games we should love to be in. It was awesome seeing those guys come out as hard as they did, honestly. It's a great thing for us to take in and learn. It's the way we've got to learn how to play sooner rather than later."
--Field Level Media