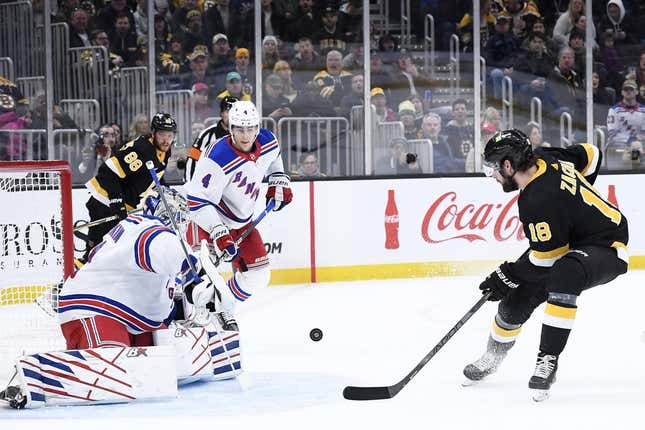 Charlie Coyle collected a goal and an assist to fuel the streaking Boston Bruins to a 4-2 victory over the visiting New York Rangers on Saturday afternoon.
Tomas Nosek, captain Patrice Bergeron and David Pastrnak also scored for the Bruins, who have won 10 in a row.
Boston's current win streak dates back to Feb. 14 and marks the franchise's first double-digit run since a 12-game stretch in 2013-14.
Bergeron converted in the third period before Pastrnak capped the scoring with his team-leading 44th goal of the season.
Tyler Bertuzzi handed out the primary assist on Coyle's goal, logging his first point while playing in first game as a Bruin. He was acquired from the Detroit Red Wings in a trade on Thursday.
Linus Ullmark made 24 saves for Boston.
Alexis Lafreniere scored both goals and Igor Shesterkin made 20 saves for New York, which slipped to 2-5-1 in its last eight games.
Coyle opened the scoring with 1:53 remaining in the opening period after Bertuzzi slipped a feed from behind the net right into the middle of the slot.
Just 30 seconds into the second, Nosek scored his second goal in four games to extend the Boston lead. Coyle danced around a defender on the right wall and threaded a pass to Nosek, who moved to the backhand to score shorthanded for a second time this season.
New York made it 2-1 as Lafreniere set up down low and put a tip on captain Jacob Trouba's point shot at 7:03 of the middle frame.
Shesterkin made seven combined saves to deny Boston during two power plays before the halfway mark of the third.
Boston padded its lead with 7:04 left as Bergeron corralled a Brad Marchand feed and whipped a shot from the right circle over Shesterkin's stick-side shoulder.
Pastrnak gave the Bruins their first three-goal lead with 3:20 remaining, one-timing Charlie McAvoy's pass from the slot to the left circle.
With 1:26 left, New York got a goal back as Lafreniere sent a long shot from the right side through traffic.
Bertuzzi followed Pavel Zacha becoming the second Bruin to register a point in his debut with the team, while fellow newcomer Dmitry Orlov assisted on Bergeron's goal, marking his ninth point in five games with the Bruins.
--Field Level Media