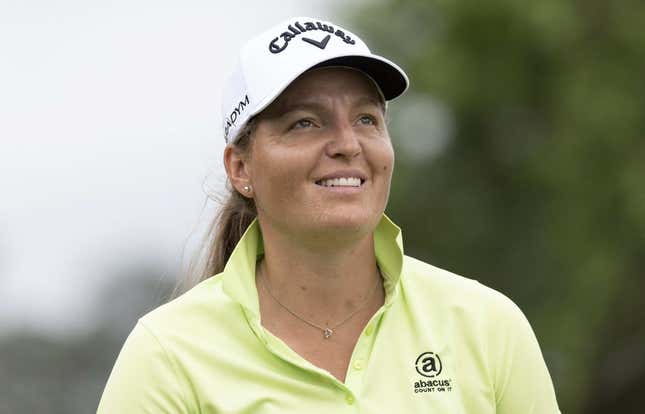 Perrine Delacour shot a 5-under 67 Friday to hang onto a one-stroke lead at the Portland Classic after the second round in Portland, Ore.
How running an NFL team is like running a restaurant | Chef Emeril Lagasse
At 14-under 130, the 29-year-old from France is one shot ahead of Sweden's Linn Grant and two up on last week's winner, Megan Khang. Both Grant and Khang shot 66 Friday to close in on Delacour.
After a slow start in the afternoon wave, with just one birdie on the back nine at Columbia Edgewater Country Club, Delacour reached 14 under by getting birdies to fall at Nos. 3, 5, 6 and 7. She stayed bogey-free for the second straight day — and has shot 10-under on the front nine over two days — despite needing five more putts than she did during Thursday's round of 63 that gave her the lead.
Delacour, who has just one top-10 finish this season, is searching for her first title in a decade-plus on the LPGA Tour.
"I'm going to try not to think about it because that's when — I'm the kind of person to overthink, so the goal is I'm going to do some stuff to keep my head busy and not thinking about golf," Delacour said.
Grant continued a hot run of form by racking up seven birdies and just one bogey. Grant won her first LPGA tournament July at the Dana Open and has four straight top-20 finishes since then.
"I think I'm overall very solid," said Grant, 24. "Like even though I have an off day, like I don't put too much pressure on myself. ... I might wake up tomorrow and not have a swing, but I just have to go out and make it work, and I think I'm pretty good at making work even on the days I don't feel like I got it."
Khang had an eagle on her card for the second straight day. After making one at the par-5 seventh hole during a bogey-free first round, Khang reached the green at the par-5 fifth in two shots Friday and holed the eagle putt.
Khang is drawing from last week's CPKC Women's Open in Vancouver, where she earned her first victory on tour after years of near-misses.
"It's been kind of like a long week it feels like, but overall I think I've kind of just come to this week kind of going, 'Hey, game is in a good place,'" said Khang, 25. "Mentally a little tired, but sometimes that can be a good thing."
Women's PGA Championship winner Ruoning Yin of China piled up eight birdies for a bogey-free 64. She joined a large tie for fourth at 10 under with Ally Ewing (65), Elizabeth Szokol (66), Thailand's Chanettee Wannasaen (66), Charley Hull of England (67), Madelene Sagstrom of Sweden (67) and Gina Kim (70).
World No. 2 Nelly Korda settled for a 71 and is at 8 under after opening the tournament with a 65.
The cut line was projected at 4 under par late Friday. Big names like Lexi Thompson (69) and U.S. Open champion Allisen Corpuz (68) were in line to miss that cut at 3 under.
Rose Zhang, the 20-year-old phenom who won her first LPGA start as a professional back in June, went 74-68 for her first two rounds to finish at 2 under and miss just the second cut of her career. Major winners Hannah Green (72) of Australia (2 under) and Lydia Ko (72) of New Zealand (even par) also missed the weekend.
—Field Level Media