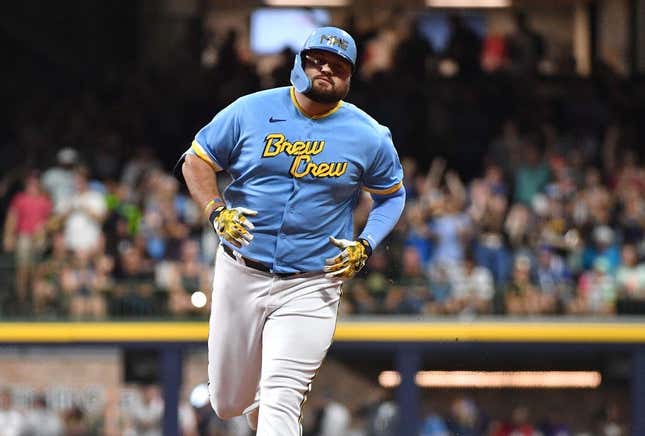 A deep look at the season numbers shows why the Milwaukee Brewers have built a four-game lead in the National League Central and the San Diego Padres sit in fourth place in the West, 6 1/2 games out of the final wild card despite their enormous $250 million payroll.
Is Texas or Florida State a bigger national title contender? | Agree to Disagree
As the teams meet Saturday in Milwaukee in the second contest of a three-game series, consider the Brewers' superiority over the Padres in these statistical categories relating to wins:
One-run games: Brewers 28-11, Padres 6-18.
Extra-inning games: Brewers 9-3, Padres 0-10.
Come from behind wins: Brewers 31, Padres 21.
Walk-off wins/losses: Brewers 7-3, Padres 1-10.
Bottom line: The Brewers persevere, the Padres not so much.
Now, the Brewers — their payroll is half of that of the Padres, per Spotrac — will go for a season-best seventh straight win on Saturday.
On Friday, Rowdy Tellez homered for the first time since May 22 and drove in four runs with his first multi-hit game since June 13.
"A lot of people don't think we can hit," Tellez said after Friday's 7-3 win over the Padres. "But we're a very timely hitting team that kind of builds on each other. We have depth in our lineup. I don't think people really understand that."
Followers of the Padres would. The Brewers were 4-for-9 with runners in scoring position Friday. The Padres, who have struggled with RISP all season, were 0-for-6 — five strikeouts and a double play.
Now the Brewers will attempt to clinch another series victory Saturday night in a pairing of right-handers as Freddy Peralta (10-8, 3.97 ERA) starts against the Padres' Pedro Avila (0-0, 1.17).
The 27-year-old Peralta is on a roll. The Brewers have won each of Peralta's past five starts and he is 4-0 over those games, allowing five runs on 19 hits and seven walks with 50 strikeouts in 30 2/3 innings for a 1.47 ERA while averaging 14.7 strikeouts per nine innings.
Peralta is 1-1 lifetime against the Padres in four games (one start). That start came earlier this season when he gave up five runs on nine hits and a walk in five innings to suffer the Brewers' lone loss in a four-game series in San Diego.
Meanwhile, the Padres will be turning to the 26-year-old Avila, whose only other start this season came in a spot/quasi bullpen game on Aug. 1. In 23 innings this season, Avila has given up three runs on 18 hits and nine walks against 28 strikeouts.
At Triple-A El Paso this season, Avila had a 1-6 record with an 8.57 ERA over 19 appearances (15 starts) before joining the Padres.
"Avila has earned more of an opportunity to see what he can do," San Diego manager Bob Melvin said.
Three of Avila's last four relief appearances have last four innings or more. He allowed a run in only one of those three extended outings.
—Field Level Media