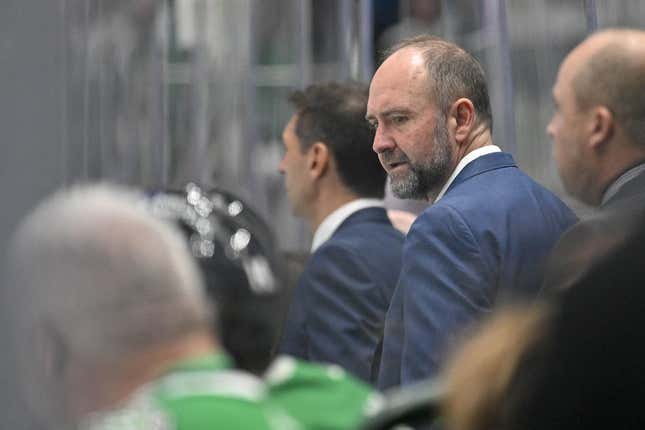 Three days after the one-year anniversary of his firing by the Vegas Golden Knights, Peter DeBoer will find himself back behind the bench at T-Mobile Arena in Las Vegas on Friday night coaching the Dallas Stars in the first game of the best-of-seven Western Conference finals
Bass' ERA stinks, but not compared to who he is off the mound | Worst of the Week Countdown
DeBoer was fired on May 16, 2022, after compiling a 98-50-12 record over parts of three seasons plus a 22-17 mark in the playoffs. But the injury-ravaged Golden Knights finished fourth in the Pacific Division last season and three points out of a wild-card spot to miss making the playoffs for the first time in the team's history
It took DeBoer and longtime assistant Steve Spott just five weeks to find work, taking over for Rick Bowness in Dallas. The Stars are the fourth different team DeBoer has coached to reach a conference final, joining New Jersey (2012), San Jose (2016 and 2019) and Vegas (2020 and 2021)
"Obviously, there's no hiding from the fact that it means a little more," DeBoer said. "That would be for anybody in this situation. This happens all the time in the world, right? You move on from a job and go on to the next job, except now we're playing with each other in the conference final immediately after."
Dallas went 3-0-0 against Vegas during the regular season, with the last two contests decided in shootouts. After the first meeting, a 4-0 victory on Jan. 16 in his return to Las Vegas, DeBoer celebrated by chugging a victory beer in the locker room.
"It's a great story for you guys," Dallas captain Jamie Benn said. "Obviously, it's the playoffs. We all want to win for each other, and the coaching staff is included in that. Probably without all the injuries they had (last season), he could still be there. Fortunately for us, he's here now."
The Stars got this far by defeating the Minnesota Wild in six games and then the Seattle Kraken in seven games, capped by a 2-1 Game 7 win on Monday. Center Joe Pavelski, no stranger to the Golden Knights from his days at San Jose, has eight goals this postseason , including three game-winners
Vegas led the Western Conference with 111 points and defeated the Winnipeg Jets in five games in the first round and then knocked off the Edmonton Oilers in six games in the second round.
Jack Eichel, the No. 2 overall pick of the 2015 NHL Draft making his playoff debut in his eighth season in the league, leads Vegas with 14 points and is also tied with center Chandler Stephenson for the team lead with six goals. Adin Hill, who took over goaltending duties in Game 3 against the Oilers when Laurent Brossoit suffered a lower-body injury, is 3-1 with a 2.19 goals-against average and .934 save percentage in five playoff games.
Hill is one of five goaltenders to play this season for the Golden Knights
"I think we've been a team that used everybody all year," Vegas coach Bruce Cassidy said. "We rely on that formula. We're going to rely on it again, hopefully for another two rounds."
Cassidy said the Golden Knights, who lost to the Washington Capitals in five games in their inaugural season in the 2018 Stanley Cup Final, have plenty of motivation heading into Friday's opener
"Now you're in the final four," Cassidy said. "It's about the big prize. Winning the Stanley Cup should be enough for everybody, I would think."
--Field Level Media