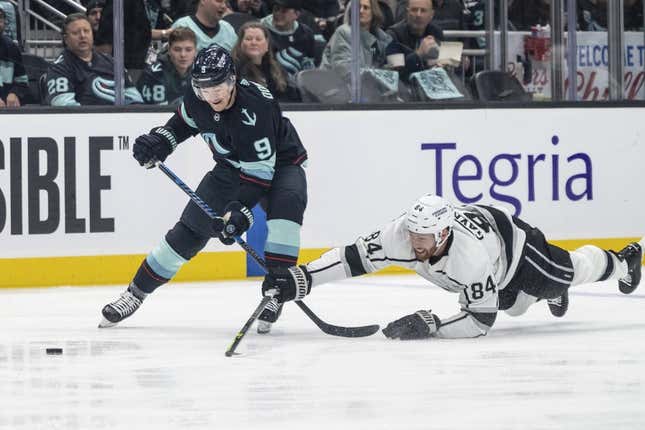 Carl Grundstrom scored what proved to be the decisive goal in the third period and the visiting Los Angeles Kings defeated the Seattle Kraken 3-1 Saturday night
Bass' ERA stinks, but not compared to who he is off the mound | Worst of the Week Countdown
Kevin Fiala had an empty-net goal and an assist, and Sean Durzi also scored for Los Angeles. Alex Iafallo added two assists.
Pheonix Copley made 25 saves in a strong game for the Kings (44-22-10, 98 points), who are third in the Pacific Division
Oliver Bjorkstrand scored for the Kraken
Martin Jones made 16 saves for the Kraken (41-26-8, 90 points), who occupy the first wild-card spot in the Western Conference
Each team had six shots on net in the goalless opening period in which the Kraken had the only power play. It was a far different game than the 9-8 victory by the Kraken in Los Angeles on Nov. 29
The Kings took the lead when Durzi scored his ninth goal of the season at 11:45 of the second period
Iafallo's shot deflected off the stick of Seattle's Jared McCann and slid to Durzi, who tucked the puck into the open left corner of the net. Durzi had scrambled to get to the side of the goal after falling down behind the net. Fiala made the pass into the slot to Iafallo.
Shots on goal were 14-14 after the second period.
The Kraken applied pressure early in the third period, with Jordan Eberle testing Copley from the edge of the crease. Copley also stopped Eeli Tolvanen on a breakaway
The Kings took a 2-0 lead when Grundstrom took advantage of a Seattle turnover to score his 12th goal of the season at 5.22 of the third period
Copley made a fine glove save on Eberle just before the Kraken went on the power play. The Kraken capitalized on the man advantage when Bjorkstrand knocked in a rebound for his 18th goal of the season at 8:25 of the third. Blake Lizotte was off for tripping
Fiala scored his 23rd goal of the season at 19:14 of the third into an empty net.
--Field Level Media