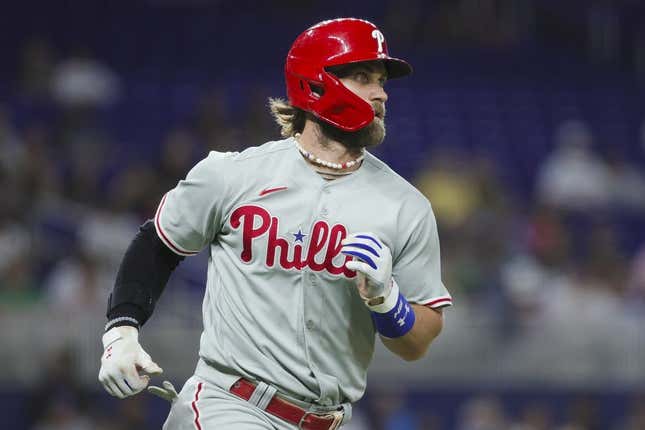 The Philadelphia Phillies will look to record their third straight victory in their four-game series against the host Miami Marlins on Wednesday night
How running an NFL team is like running a restaurant | Chef Emeril Lagasse
Both teams made significant moves before the Phillies' 3-1 win on Tuesday, just before the trade deadline. Philadelphia, for example, added right-handed starter Michael Lorenzen from the Detroit Tigers. This will be Lorenzen's fourth team in three years. In nine years in the major leagues, he has a 4.02 ERA
Lorenzen, 31, became a first-time All-Star this season, and he moves to the Phillies with a 5-7 record and a 3.58 ERA. He was mostly a reliever from 2016-21, but all 36 of his appearances the past two years have been as a starter
Lorenzen, who is expected to start Thursday's series finale at Miami, said he is grateful to the Tigers
"They promised to make me better," Lorenzen said, "and they definitely did that.
The Marlins were even busier than the Phillies at the trade deadline
On Tuesday, Miami acquired first baseman Josh Bell for third baseman Jean Segura and shortstop Kahlil Watson, the Marlins' first-round pick in 2021. Miami also sent stellar pitching prospect Jake Eder to the Chicago White Sox for third baseman Jake Burger. Finally, the Marlins sent first baseman Garrett Cooper and right-handed pitcher Sean Reynolds to San Diego for pitcher Ryan Weathers
In the days before the deadline, the Marlins also acquired closer David Robertson and set-up man Jorge Lopez
"It's hard to see a couple of those guys leave," Marlins manager Skip Schumaker said following Tuesday's game. "Segura was so good for the guys in our clubhouse -- holding them accountable, making sure they get their work in and showing them what winning looks like. He has to realize how much he meant to me as a leader
"Cooper -- middle of the order bat, All-Star -- he had a really good career as a Marlin. Tough to see those guys go, but when you add Josh Bell, switch hitter, power hitter ... Jake Burger hits the ball as hard as anyone in the majors
"When you add some power to your lineup, you get excited.
As for Wednesday's pitching matchup, Philadelphia will turn to right-hander Zack Wheeler (8-5, 3.74 ERA) to start against Miami left-hander Braxton Garrett (5-3, 4.08)
Wheeler has been outstanding in 21 career starts against the Marlins, going 10-4 with a 2.46 ERA. In eight starts in Miami, he is 3-1 with a 3.08 ERA
Garrett, meanwhile, is 2-1 with a 4.26 ERA in four career starts against the Phillies
This season, Garrett has run hot and cold. His ERA has gone from 2.45 in April to 5.46 in May to 2.22 in June and 5.92 in July
Unfortunately for the Marlins, Robertson squandered a save chance on Tuesday. Miami led 1-0 entering the ninth before he allowed an RBI double to Bryce Harper and a two-run homer to Nick Castellanos
"It's a fine line when you have a one-run game," Robertson said. "The leadoff walk (to Kyle Schwarber stunk). ... I didn't mean to hang a slider to Castellanos.
--Field Level Medi