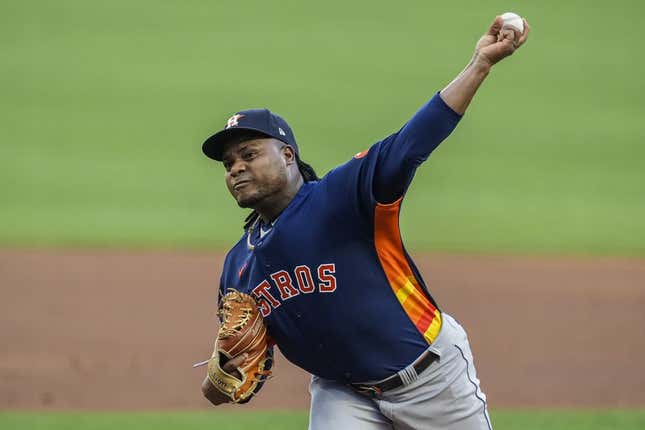 An eight-run loss to the Texas Rangers on April 16 dropped the Houston Astros two games below .500 in advance of a daunting nine-game stretch against a trio of postseason favorites
Will South Beach Flu give the Heat home court advantage? | Keep it a Buck(et)
By that juncture, the Astros had won just one of five series, and given their injury-ravaged roster, they seemed in bad shape prior to hosting the Toronto Blue Jays before hitting the road for a six-game jaunt through Atlanta and Tampa Bay
But instead of dropping in the standings, the Astros amassed seven wins during that stretch, including a sweep of the Braves and consecutive shutouts of the high-scoring Rays. The Astros are suddenly riding high as they host the Philadelphia Phillies in a rematch of the 2022 World Series starting on Friday, the opener of a three-game weekend series and a six-game homestand
"I think we're happy with the way we're playing," Houston right-hander Hunter Brown said. "That's three series wins in a row. So just try to keep it rolling and keep it on the right track."
Brown twirled seven shutout innings in the Astros' 1-0 victory over the Rays on Wednesday. He followed a stellar outing from right-hander Luis Garcia, who worked six innings in a 5-0 win on Tuesday, his second consecutive scoreless outing
The timing of their exceptional starting pitching is welcome, for the Astros remain without Jose Altuve (thumb) and Michael Brantley (shoulder), both of whom landed on the injured list prior to the season, and Yordan Alvarez, who missed the series against the Rays due to a neck strain
Houston had yet to place Alvarez on the IL, and his status for the Phillies series was undetermined
Left-hander Framber Valdez (2-2, 2.25 ERA) will start the series opener for the Astros on Friday. He logged his fourth consecutive quality start on Saturday against the Braves, allowing three runs on eight hits with nine strikeouts over seven innings in the Astros' 6-3 victory
Brown and Valdez are the only pitchers in the majors who have thrown at least seven innings in three starts this season.
Valdez is 3-0 with a 1.04 ERA in three career starts against the Phillies, all coming last season, two of them in the World Series. He allowed two runs on six hits and five walks with 18 strikeouts over 12 1/3 innings while defeating the Phillies in Games 2 and 6 of the Fall Classic
Right-hander Aaron Nola (1-2, 5.40 ERA) is the scheduled starter for the Phillies. He logged a season-high seven innings in a no-decision in his previous start, allowing three runs on four hits and three walks with three strikeouts in the Phillies' 4-3 win over the Colorado Rockies on April 21
Nola is 2-0 with 19 strikeouts in 12 2/3 scoreless innings over two career regular-season starts against Houston. However, in two World Series starts vs. the Astros, Nola allowed eight runs on 13 hits and two walks with nine strikeouts over 8 1/3 innings, getting a no-decision in Game 1 and taking a 5-0 loss in Game 4
Like the Astros, Philadelphia has won three consecutive series. The Phillies blanked the Seattle Mariners 1-0 on Thursday behind left-hander Matt Strahm, who allowed two hits while recording five strikeouts over 5 1/3 innings. Strahm, in his first season with the Phillies, appears to have fit right in with the culture of the club
"I've been around a few clubhouses, and honestly this is the one I felt meshed the best," Strahm said. "It's going to be a fun ride."
Phillies right fielder Nick Castellanos said of returning to Houston, "There's going to be some uncomfortable memories that I'll have to confront, just being the last out of the World Series there and things like that, but I'm excited to get back there.
--Field Level Media