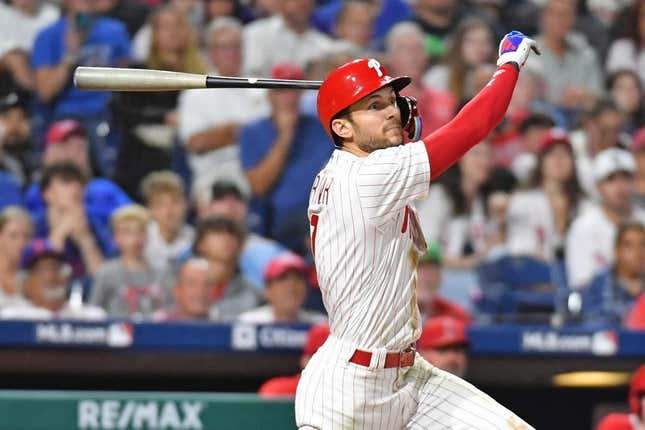 The Philadelphia Phillies will try to carry their power surge into September when they open a three-game series at the Milwaukee Brewers on Friday night.
How running an NFL team is like running a restaurant | Chef Emeril Lagasse
Philadelphia led the majors with 59 home runs in August, a franchise record for any month and the third-most by any major league team in any month since at least 1904.
The long ball helped the Phillies go 17-10 in August and move three games in front of the Chicago Cubs for the first wild card from the NL.
It wasn't the only form of offense they displayed last month, however.
Philadelphia also manufactured runs the old-fashioned way.
"We can just win in so many different ways," said Phillies shortstop Trea Turner, who has gone deep four times in the past three games.
"We've been hitting homers, we've been manufacturing runs, we've been stealing some bases, we can pitch, we can make some good plays on defense. It's just a little bit of everything, and I think that versatility is really big going forward."
The Phillies also have shown a knack for coming back late in games, as they did in their most recent one against the visiting Los Angeles Angels on Wednesday.
Bryce Harper blasted his 10th home run in August and 300th of his major league career during the eighth inning to give the Phillies a one-run lead. Closer Craig Kimbrel, however, surrendered three runs in the ninth in a 10-8 loss to the Angels.
The Brewers enter the series with the exact same record as Philadelphia (74-59). Milwaukee sits atop its division, however, with a three-game lead over the Cubs in the NL Central.
The Brewers are coming off two straight losses to the Cubs following a nine-game winning streak.
"Still a lot of baseball ahead of us," Milwaukee pitcher Brandon Woodruff said. "We'll come back after the off-day (Thursday) and get after it and, hopefully, string together some more wins."
Freddy Peralta is scheduled to start on the mound in the series opener for Milwaukee.
Peralta (11-8, 3.95 ERA) went 5-0 in five starts in August with a 2.10 ERA.
Four of those wins came against sub-.500 teams (Washington Nationals, Colorado Rockies, Chicago White Sox and San Diego Padres), but he also mixed in a win against the Texas Rangers on Aug. 19.
Peralta held Texas to one run on four hits in 5 2/3 innings of the 6-1 victory.
Peralta is 0-2 with a 4.82 ERA in five career appearances (four starts) against Philadelphia.
He'll need to pitch carefully to Harper and Nick Castellanos. Harper is 3-for-9 with two homers versus Peralta, while Castellanos is 7-for-15 with four doubles and a homer.
The Phillies plan to counter with veteran right-hander Zack Wheeler (10-6, 3.59).
Wheeler improved to 2-1 with a 3.00 ERA in August after allowing one run on three hits in seven innings of a 12-1 win over the St. Louis Cardinals.
He has pitched at least six innings in each of his past nine outings.
Wheeler is 3-2 with a 2.47 ERA in eight career starts against the Brewers.
—Field Level Media