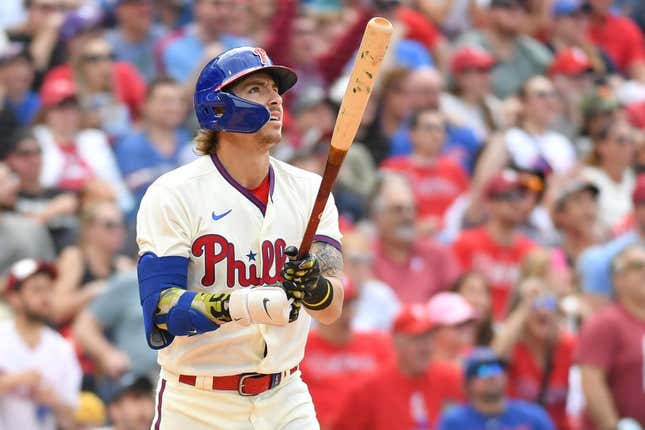 For nearly a month, Philadelphia Phillies left-hander Ranger Suarez has been one of the majors' best pitchers
How running an NFL team is like running a restaurant | Chef Emeril Lagasse
However, Suarez did not fare well in his lone start against the Chicago Cubs this season, which came on May 19. But since then, Suarez has posted five consecutive quality starts and gets another crack at the Cubs in Chicago on Tuesday night
The Phillies bring a six-game road winning streak into the opener
Suarez (1-2, 3.50 ERA), who missed the first 1 1/2 months of the season with an elbow strain, went 0-1 with a 9.82 ERA in his first three starts. However, the southpaw ranks fourth in the majors with a 1.38 ERA while going 1-1 over a five-start span since May 30.
Though Philadelphia lost 4-2 to Atlanta last Tuesday, Suarez yielded only a solo homer, three other hits and struck out seven in six innings.
"I thought he went out there and did his job," teammate Bryce Harper told The Philadelphia Inquirer.
Suarez allowed four runs, five hits and three walks over two innings of a 10-1 loss to Chicago on May 19.
Philadelphia just took two of three from the New York Mets for a 2-3 homestand. On Sunday, the Phillies used a four-run eighth inning, where they recorded only one hit with three walks and two hit-batters, to rally for a 7-6 victory over the Mets
"I don't really care how we win, as long as we win," said Philadelphia shortstop Trea Turner, who was 4-for-10 with six RBIs during the Mets' series.
Philadelphia has averaged 6.6 runs and posted an .843 OPS while winning eight of its past nine on the road.
However, the Phillies have lost three straight and four of five at Wrigley Field, where the Cubs are 7-2 while winning three straight series. Chicago returns home after winning all three at Pittsburgh and splitting a two-game set with St. Louis in London
Sunday's 7-5 loss to the Cardinals was just the third in the past 14 games for the Cubs, who have averaged 7.1 runs, clubbed 13 homers and posted an .826 OPS in the past 11 contests
"We have a really, really good lineup and a lot of depth," said Chicago outfielder Mike Tauchman, batting .362 in 15 home games since making his Cubs' debut May 19
"Whoever is in the lineup that day is extremely capable of producing."
Chicago second baseman Nico Hoerner has 11 RBIs in his past 12 games and went 1-for-2 while driving in a pair of runs against Suarez last month.
As of Monday, the Cubs hadn't named an official Tuesday starting pitcher, but the Chicago Tribune noted that Jameson Taillon (2-5, 6.71 ERA) is in line to take the ball. During a 12-3 loss at Philadelphia on May 20, the right-hander allowed six of his eight runs -- all but two earned -- in the first inning, highlighted by Kyle Schwarber's grand slam
Taillon gave up four runs and eight hits over 5 1/3 innings during his most recent start, a 6-3 loss to Baltimore on June 18.
Philadelphia's Bryson Stott is batting .367 with nine RBIs in his past 13 games, and he went 4-for-9 with a homer and four RBIs versus Chicago last month. Schwarber, meanwhile, is 0-for-15 with nine strikeouts in the past four games.
--Field Level Media