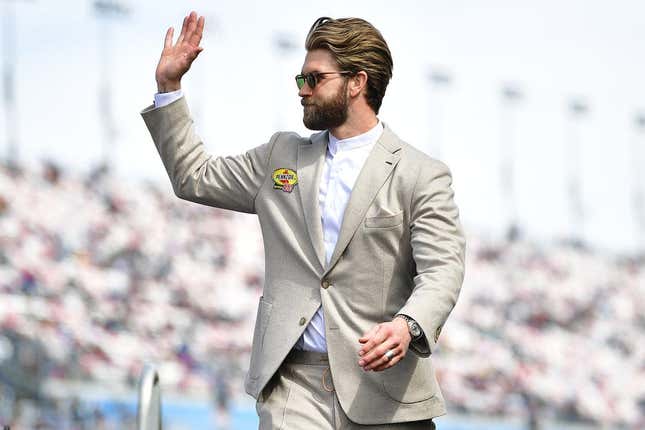 Philadelphia Phillies star Bryce Harper admitted Thursday that he's progressing as he recovers from Tommy John surgery in November, however he's not ready to put a timetable on his return to the lineup.
How running an NFL team is like running a restaurant | Chef Emeril Lagasse
"I think today we'll probably go over that a little bit more, get a sense of where they're at, where I'm at," Harper said. "I had a great offseason. After I had surgery I felt really good. I still feel good now. I don't want to put a timeline on anything. I've never dealt with anything like an elbow. So it's definitely different waters for me."
The Phillies initially said Harper's likely return will be around the All-Star break, and the two-time National League MVP said he's comfortable with that.
"Things can change either way," Harper said. "I can be after, I can be before. As of now, that's the date we solidified. We're not going to rush. We're going to be smart about it. We knew at the end of the year last year that this might happen. So we're thankful for the DH -- again. I mean, I was so against it, but I'm all about it. I love doing it, too."
Harper, 30, originally sustained the injury on April 11 and ended up moving from the outfield to designated hitter for the remainder of the season as the Phillies captured their first pennant since 2009.
Harper hit .286 with 18 homers and 65 RBIs in 99 games last season. He batted .349 with six homers and 13 RBIs in 17 postseason games, with the Phillies losing the World Series to the Houston Astros in six games.
The seven-time All-Star has 285 homers, 817 RBIs and a .280 batting average in 1,382 games with the Washington Nationals (2012-18) and Phillies.
--Field Level Media