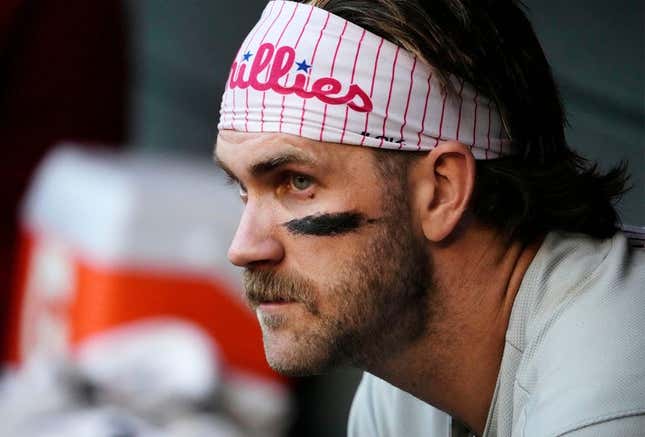 Polarizing Bryce Harper likely can expect a nice ovation from the opposing fans on Friday when the Philadelphia Phillies visit the Oakland Athletics in the opener of a three-game interleague series
How running an NFL team is like running a restaurant | Chef Emeril Lagasse
With the A's getting closer to a move to his hometown of Las Vegas, Harper made it clear on Thursday that he was opposed to the team's relocation.
"I feel sorry for the fans in Oakland," Harper said, per USA Today. "It's just not right. They have so much history in Oakland. You're taking a team out of a city. I'm pretty sad because of all of the history and all of the greatness they've seen there.
"I see the A's as Oakland. I don't see them as Vegas."
Harper, who owns a house in the Las Vegas suburb of Henderson, assured he's all for Major League Baseball in Nevada. It's just that he'd prefer it be a home-grown expansion team, like the Vegas Golden Knights of the NHL.
The A's made national headlines during their just completed series against the Tampa Bay Rays, both for a "reverse boycott" that produced a season-best crowd on Tuesday as well as getting the approval from the Nevada legislature to move forward with plans to build a state-of-the-art stadium on the Las Vegas Strip.
A lifelong National League player, Harper has made just one previous appearance in Oakland, that coming in June 2017 while with the Washington Nationals. He went 0-for-2 but walked three times, stole a base and scored twice in an 11-10 win for the Nationals.
Harper had four hits and four RBIs over four days to help the Phillies capture a series victory over the Arizona Diamondbacks. Philadelphia won the final three games of the set to go over .500 for the first time since May 13
Hoping to keep the momentum going in Oakland will be right-hander Taijuan Walker (6-3, 4.67 ERA), who has yielded four hits and struck out 13 batters in 12 scoreless innings over his past two starts.
Walker has not pitched well in two previous games at the Oakland Coliseum, allowing 10 runs and 15 hits in 9 1/3 innings. The 30-year-old is 2-2 with a 3.80 ERA in eight career games (six starts) against Oakland.
A's left-hander JP Sears (1-3, 4.15) has no such experience against the Phillies. He has yet to face them in his career
After beginning the season 0-3 with a 5.54 ERA through seven starts, Sears is 1-0 with a 2.53 ERA in his past six outings. The 27-year-old recorded his first win of the season in his last start, limiting the Brewers to two runs in five innings in an 8-6 victory on Sunday in Milwaukee.
The A's have lost two in a row, but only after stunning the Rays with consecutive victories Monday and Tuesday to extend their winning streak to seven games. The series split came in the wake of a three-game shellacking that Oakland absorbed at Tampa Bay in April.
"We're disappointed to drop these last two games, but if you go back to April against this team, we pretty much got embarrassed against these guys," A's manager Mark Kotsay said after Thursday's 4-3 defeat.
"This is obviously the best team in baseball record-wise right now. To split a series with them shows a lot of growth, shows a lot of progress from April to now."
--Field Level Media