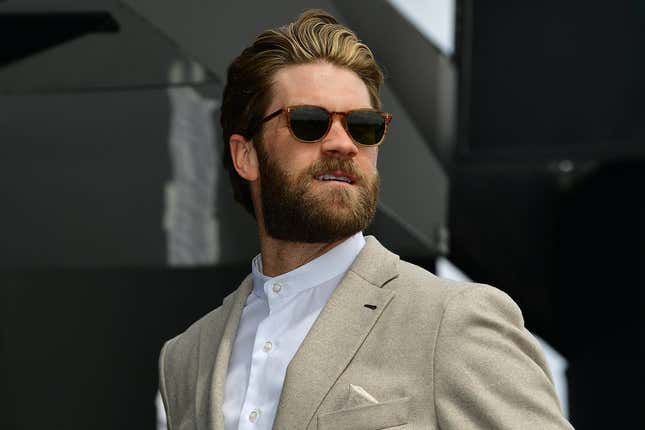 Bryce Harper could be an option at first base when he returns from offseason elbow surgery after the All-Star slugger approached the Phillies about working out in the infield
Bass' ERA stinks, but not compared to who he is off the mound | Worst of the Week Countdown
Philadelphia manager Rob Thomson said the team would likely send Harper for a rehab assignment in the minor leagues once he has medical clearance to slide.
Rhys Hoskins suffered a major knee injury in spring training and had season-ending surgery March 30. Darick Hall (thumb surgery) is out for two months and third baseman Alec Bohm moving across the diamond to fill the spot isn't Thomson's preferred option.
Harper could be the answer.
For now, Kody Clemens has been given priority billing at first base. He was the team's fourth starter at the position in a span of seven games when he was recalled from the minors.
Harper is currently rehabbing to gain strength and stability as part of recovery from ulnar collateral ligament surgery. While he's on the injured list, Harper wasn't moved to the 60-day IL to start the season as expected. Still, his return date is not set in stone.
The Phillies initially said Harper's return would be near the All-Star break in July. Harper said he was comfortable with that projection, but did note before the start of the season that date is subject to change
"Things can change either way," Harper said. "I can be after, I can be before. As of now, that's the date we solidified. We're not going to rush. We're going to be smart about it. We knew at the end of the year last year that this might happen. So we're thankful for the DH -- again. I mean, I was so against it, but I'm all about it. I love doing it, too."
Harper, 30, originally sustained the injury on April 11, 2022, and ended up moving from the outfield to designated hitter for the remainder of the season as the Phillies captured their first pennant since 2009
Harper hit .286 with 18 homers and 65 RBIs in 99 games last season. He batted .349 with six homers and 13 RBIs in 17 postseason games, with the Phillies losing the World Series to the Houston Astros in six games
The seven-time All-Star has 285 homers, 817 RBIs and a .280 batting average in 1,382 games with the Washington Nationals (2012-18) and Phillies
--Field Level Media