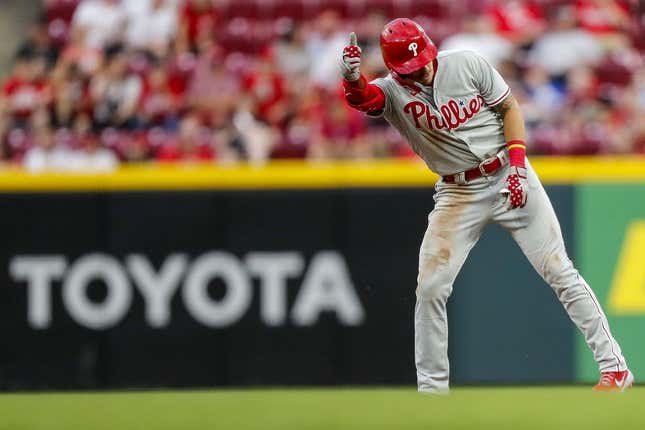 Every Philadelphia Phillies starter contributed at least one hit and one RBI to Sunday's 14-3 road rout of the Cincinnati Reds
Bass' ERA stinks, but not compared to who he is off the mound | Worst of the Week Countdown
A nine-run first inning set the tone for what the club hopes can be a breakthrough entering Monday's series opener against the host Chicago White Sox
"Like we've been saying, with the lineup we have, it was just a matter of time before one of these games happens," Philadelphia's Bryson Stott said. "It was fun."
The Phillies' slow start notwithstanding, Stott is enjoying himself -- and excelling -- more than most. The Philadelphia second baseman went 3-for-7 with a home run and two RBIs on Sunday to extend his season-opening hitting streak to 16 games
Stott matched Willie Jones (1950) for the modern franchise record for a hitting streak to start a season. The Phillies' leadoff man is batting .380 and sparked the team to a season-best 23 hits on Sunday
"It's really fun; such a fun group to be a part of," Stott said. "The veterans are the veterans. The amount of fun they have ... everyone clicks together. Any time you score nine runs in the first inning of a major league game, it's always a good sign."
While the White Sox weren't quite as prolific with their first licks on Sunday, they still felt plenty confident after first-inning home runs from Gavin Sheets and Jake Burger staked them to a 4-0 lead against Baltimore
But the Orioles closed the game with eight unanswered runs to prevent Chicago from capturing its first series victory of the season.
The White Sox had a 3-0 lead against the Orioles on Friday before losing 6-3
"I just think we've got to minimize baserunners," White Sox manager Pedro Grifol said. "They had a lot of traffic (on base) the last three games, but we also had leads in three games. So I'm not going to sit here and say we're close.
Righty Lance Lynn (0-1, 7.31 ERA) will start for the White Sox as he looks to build off his first quality start of the season at Minnesota on Tuesday. He held the Twins to three runs and seven hits in six innings with zero walks and 10 strikeouts
Lynn is is 2-0 with a 2.37 ERA is three career starts against Philadelphia, scattering nine walks and one home run allowed in 19 innings.
Burger has homered in three straight games. The first baseman is the first White Sox player to do so since teammate Eloy Jimenez accomplished the feat from Sept. 7-9
Right-hander Zack Wheeler (0-1, 4.02) is set to make his fourth start of the season for the Phillies. Wheeler has worked progressively deeper into the game in each of his starts, and is coming off Wednesday's no-decision against Miami, when he scattered one run and three hits in six innings with three walks and six strikeouts
Wheeler is 1-0 with a 2.92 ERA in two career starts against the White Sox, with three walks and one home run allowed in 12 1/3 innings
--Field Level Media