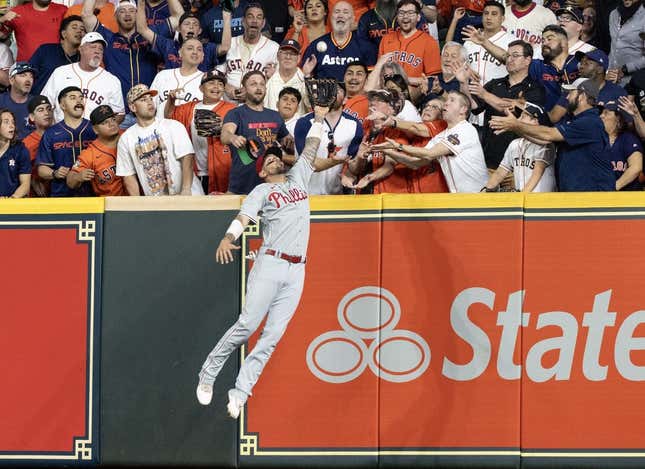 Some of the usual suspects helped the Philadelphia Phillies keep their hot streak going on Friday, but there were additional contributions that proved equally vital
Air Jordans are more American than McDonald's French fries | Deon Cole's Ultimate Sports Fantasy
The Phillies won for the ninth time in 12 games and moved above .500 for the first time this season with their 3-1 road victory over the Houston Astros in the opener of a three-game series featuring the 2022 World Series participants
The set continues Saturday afternoon.
Right-hander Aaron Nola, who pitched brilliantly in Houston in the final series of the regular season last year before struggling in the Fall Classic, was back in top form on Friday. He logged a season-high eight innings while limiting the Astros to one run and three hits
Kyle Schwarber, who homered off Houston ace Framber Valdez in Game 6 of the World Series, got Valdez again on Friday, belting a 407-foot blast to right field in the first inning. And Nick Castellanos, whose defense paved the way for the Phillies to win Game 1 of the Fall Classic, robbed Alex Bregman of a homer with a catch at the right field wall to end the bottom of the first on Friday
Still, the Phillies have found success of late by utilizing their depth. Against Houston, that meant eight-hole hitter Edmundo Sosa producing two doubles and two runs while Cristian Pache and Brandon Marsh delivering run-scoring hits while batting at the bottom of the order
The Phillies' 0-4 start is a thing of the past. Maintaining momentum is now the pressing chore
"The biggest thing is just making sure that we play our baseball," Schwarber said. "We're always going to be prepared when we walk out on the field. I'll take our team being prepared with anyone.
"Results are going to be results. We're going to win, we're going to lose, but if we keep minimizing the little things and take advantage of our little things we can put on them, that's going to be good things for us."
Right-hander Zack Wheeler (2-1, 4.73 ERA) is the scheduled starter for the Phillies on Saturday. He has won consecutive starts despite allowing seven runs on 11 hits and three walks in 11 innings against the Chicago White Sox and Colorado Rockies. He struck out 16 in those two outings
While Wheeler will make his first career regular-season start against the Astros, he faced Houston twice in the World Series. He allowed seven runs (six earned) on nine hits and four walks with eight strikeouts over 10 1/3 innings while taking the loss in both Game 2 and Game 6
Right-hander Cristian Javier (2-0, 3.21) has the starting assignment for the Astros on Saturday. He struck out a season-high 10 batters -- including seven consecutively -- against the Atlanta Braves on Sunday. Javier allowed two runs (one earned) on three hits and two walks over six innings in a 5-2 victory
Javier has faced the Phillies just once in his career, and it was a historic outing. He threw the first six innings of a combined no-hitter in Game 4 of the World Series, recording nine strikeouts and walking two in a 5-0 victory
Astros slugger Yordan Alvarez missed his fourth consecutive game due to neck discomfort on Friday. The team has elected to keep Alvarez on the active roster, and his status remains day-to-day
"He's better. He's much better than when we were in Tampa," Houston manager Dusty Baker said.
--Field Level Media