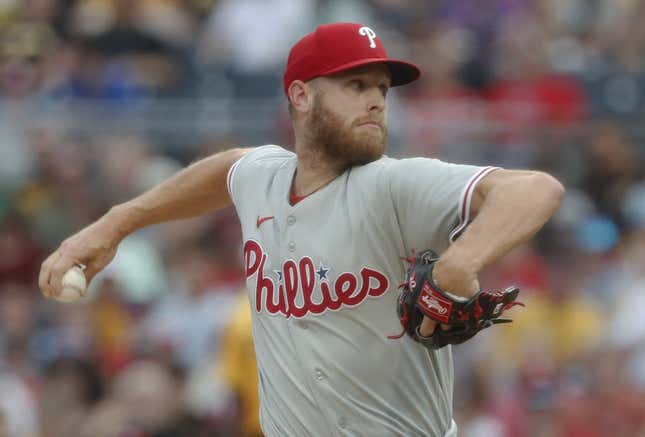 With a critical two weeks ahead, the Philadelphia Phillies would have preferred a softer matchup for their getaway game in San Diego.
How running an NFL team is like running a restaurant | Chef Emeril Lagasse
Instead, the Wednesday rubber match of a three-game series against the Padres will see two quality right-handers take the mound: the Phillies' Zack Wheeler (10-6, 3.62 ERA) and San Diego's Michael Wacha (11-2, 2.85).
The Phillies currently occupy the top National League wild-card slot — the only wild-card slot guaranteeing home-field advantage in the first round of the playoffs — by 1 1/2 games over the Chicago Cubs. Then it's three games back to the Cincinnati Reds, who currently hold the last berth by a half-game over the Miami Marlins.
After they leave San Diego, the Phillies begin a seven-game homestand — three against the Marlins, who closed Tuesday with five straight wins, then four against the NL East-leading Atlanta Braves. In fact, seven of the Phillies' next 14 games are against the Braves, who are seeking to enter the postseason with the best record in the majors.
"We know what's on the line and what we have to do," Phillies manager Rob Thomson said earlier this week as he viewed the Padres series and what was beyond it. "We had to rally late to play our way into the wild-card round last year. We're in a little better shape than we were last year at this time."
And the immediate goal: "Keep winning series."
Which brings the Phillies and Wheeler to Wednesday in San Diego.
Not only is Wheeler 10-6 this season, but the Phillies are 16-11 in his starts (although they are 3-5 in his past eight outings after winning seven straight games started by Wheeler.) The last of those seven consecutive victories was against the Padres coming out of the All-Star break, when he held San Diego to three runs on five hits and no walks with seven strikeouts in seven innings — although he gave up two home runs.
Wheeler has had great success against the Padres during his career: 3-1 in eight starts with a 2.31 ERA, a 1.026 WHIP and a .234 opponents' batting average. He has 60 strikeouts against only eight walks in 50 2/3 innings vs. San Diego.
Advantage Phillies. But wait — the Padres are countering with Wacha, who was the NL Pitcher of the Month in May and was still on a roll before he missed six weeks in July and August due to shoulder fatigue.
"Michael Wacha is an extremely competitive person and a very skilled pitcher," Padres manager Bob Melvin said. "We always feel good when he starts."
And the Padres should feel good with Wacha on the mound. They are 13-6 this season when Wacha starts (6-2 over his most recent eight starts). Wacha is 3-0 with a 2.91 ERA since returning from the injured list — which is where he was the first time the Padres and Phillies met in mid-July.
Wacha is 3-2 lifetime against the Phillies in nine games (seven starts) with a 4.98 ERA and a 1.615 WHIP.
—Field Level Media