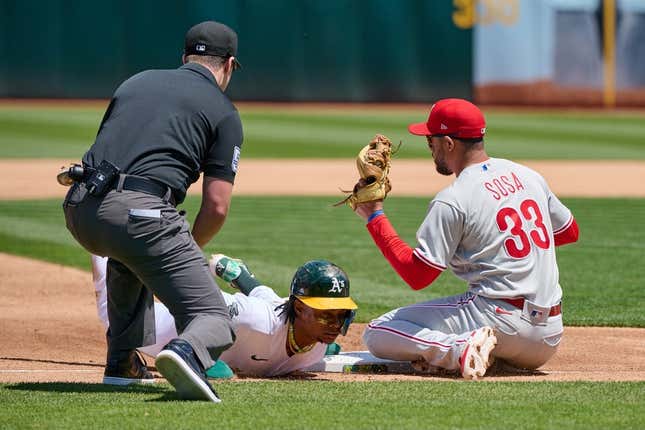 The Philadelphia Phillies hope to pack their winning streak for a long flight home when they go for a series sweep of the host Oakland Athletics on Sunday afternoon
Is Texas or Florida State a bigger national title contender? | Agree to Disagree
Phillies right-hander Zack Wheeler (5-4, 3.73 ERA) and A's lefty Hogan Harris (2-0, 4.84), two pitchers on a roll, are the scheduled starters as Philadelphia looks to improve to 6-1 in a western swing that began Monday with a loss to Arizona
The Phillies ran their winning streak to five games Saturday by doing what they've done well this season -- taking care of business in extra innings. They improved to 4-1 in extended games with a 3-2 victory that bumped their impressive record in one-run games to 15-7
Wheeler has pitched in a pair of one-run wins in his last four outings, including a 3-2 victory over the Detroit Tigers last week in which he did not allow an earned run in 7 1/3 innings but wasn't part of the decision. He then was afforded the luxury of run support in a 15-3 romp at Arizona on Tuesday, a game in which he gave up just one run in six innings.
The 33-year-old former first-round pick of the San Francisco Giants has not had an enjoyable career against the A's, going 1-1 with a 9.24 ERA in three starts.
The Phillies won the first two games of the series despite totaling just 16 hits in 21 innings. All but three have been singles
But thanks in large part to starting pitchers Taijuan Walker and Cristopher Sanchez, who combined to allow just one run in 12 innings, the visitors' few offensive breakthroughs have been enough against an A's team that has gone just 2-for-30 with runners in scoring position in the series.
The Phillies didn't have an extra-base hit in Saturday's win. Catcher J.T. Realmuto noted during the team's trip that quality trumps quantity
"We haven't lived up to our potential early in the season, but we feel we're hitting our stride right now," he said. "We have a lot of talent in our lineup, up and down it. If we continue to be consistent and not try to do too much, we could be pretty successful."
Meanwhile, the A's are learning there's a difference between being streaky and being consistent. They are mired in a four-game skid after having shocked the Pittsburgh Pirates, Milwaukee Brewers and Tampa Bay Rays with seven straight wins.
"These last few losses have been tough, because we've had a chance to win all of them," A's manager Mark Kotsay said. "When you're 1-for-19 with runners in scoring position (on Saturday), it's tough to win games.
"We were able to execute (in scoring opportunities) in our stretch of winning games. But right now, we just can't come up with big hits."
Hoping to get more support than teammates JP Sears and James Kaprielian received the last two days, Harris will attempt to extend a personal winning streak to three games. During Oakland's recent winning streak, he limited the Pirates and Rays to a total of four runs in 12 innings his last two times out.
Harris has not faced the Phillies
--Field Level Media