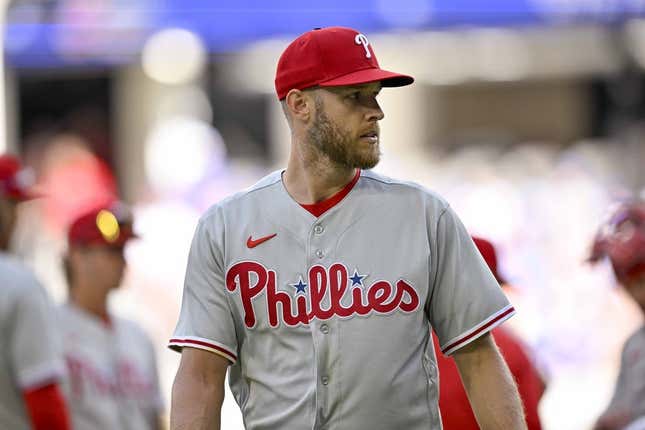 The defending National League champion Philadelphia Phillies finally get to play before their fans as they host the Cincinnati Reds in their 2023 home opener on Friday
Will South Beach Flu give the Heat home court advantage? | Keep it a Buck(et)
When they do so, they'll hope to field a healthy lineup.
Outfielder Brandon Marsh was scratched before Wednesday's game with a sprained left ankle, and first baseman Darick Hall was forced out of Wednesday's 4-2 loss to the New York Yankees with a right thumb sprain.
The Phillies went 1-5 in their season-opening six-game road trip through Texas and New York before Thursday's scheduled home opener was pushed back due to the weather
The Phillies already lost Rhys Hoskins to a torn ACL and Bryce Harper isn't expected back until the All-Star break as he rehabs from Tommy John surgery on his right elbow
There was good news this week as Harper took live batting practice before Wednesday's game in New York, but the biggest concern the Phillies have with him is not swinging the bat. It's running the bases and potentially sliding headfirst
"He feels great," Phillies manager Rob Thomson said. "If he slides headfirst he could rupture (the elbow) and then we are back to square one. We are close to where he was before. In fact, he feels his right arm is stronger than his left right now because he has done so much rehab on it. So you have to even it out.
Reds right-hander Hunter Greene (0-0, 8.10 ERA) will be making his first career start against the Phillies. He hasn't pitched since allowing three runs and five hits over 3 1/3 innings in Cincinnati's Opening Day loss to the Pittsburgh Pirates. He walked three and struck out eight
The Phillies will counter with a power pitcher of their own in Zack Wheeler (0-1, 8.31). The right-hander will look to rebound from a rough season debut against the Texas Rangers on Saturday. Wheeler was tagged for five runs -- four earned -- on seven hits in 4 1/3 innings in a 16-3 loss to the Rangers
With four pitchers on the injured list, the Phillies already are juggling their bullpen and their roster less than one week into the season
McKinley Moore, one of Philadelphia's top pitching prospects, had his contract selected from Triple-A Lehigh Valley and was added to Phillies roster before the Wednesday finale against the Yankees
Consecutive rainouts Wednesday against the Chicago Cubs and Thursday in Philadelphia gave the Cincinnati bullpen some much-needed rest after a tough night against the Cubs in a 12-5 loss Tuesday night. Five relievers followed starter Luis Cessa, and four of them were tagged for runs.
Buck Farmer and Reiver Sanmartin faced seven combined batters without an out in Chicago's six-run rally in the seventh inning. Joel Kuhnel allowed three more runs in the eighth and Fernando Cruz allowed a run in the ninth.
"A lot of those guys pitched (Monday)," said Reds manager David Bell said. "Really, guys are still building up and getting to the demands of the early season. They have pitched well. They've pitched quite a bit, too. It's just something we have to monitor.
--Field Level Media