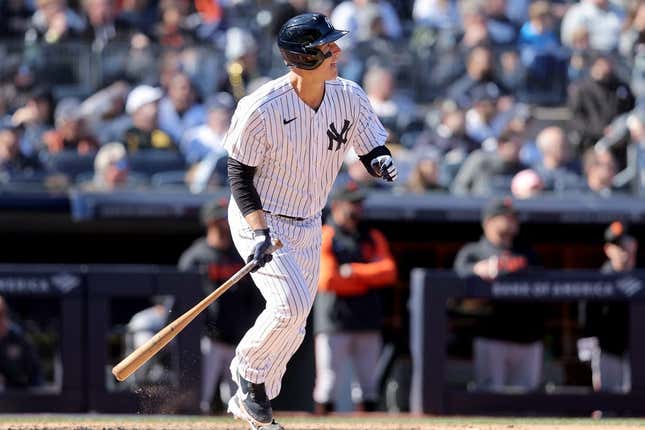 The first three games as defending National League champions did not go well for the Philadelphia Phillies
Bass' ERA stinks, but not compared to who he is off the mound | Worst of the Week Countdown
Off to their first 0-3 start since 2016, the Phillies hope to get their first win Monday night when they visit the New York Yankees for the opener of a three-game series
The Phillies are the first reigning pennant winner to lose their first three games since the 2007 St. Louis Cardinals opened 0-3 after beating the Detroit Tigers for their first World Series title since 1982
After a lost weekend in Texas against the Rangers, Philadelphia is attempting to avoid its first 0-4 start since 2016.
The Phillies were outscored 29-11 in a three-game sweep by the Rangers. During the series, they batted .283 (30-for-106) and were 7-for-29 (.241) with runners in scoring position but pitched to a 12.94 ERA in the first two games before taking a 2-1 loss Sunday
On Sunday, Philadelphia's lone run came on a grounder by Josh Harrison when it went 1-for-8 with runners in scoring position. Trea Turner had two hits, but the Phillies hit into three double plays, including one with the bases loaded in the fourth
"Tonight was a better ballgame," Phillies manager Rob Thomson said. "We played well. All in all, it's encouraging.
New York sandwiched a pair of shutouts around a 7-5 loss to the San Francisco Giants on Saturday. The Yankees clinched their first series victory of the season when Giancarlo Stanton, Aaron Judge and Kyle Higashioka homered in a 6-0 win Sunday
Stanton and Judge homered twice against the Giants, and the Yankees hit seven homers. Stanton grounded into a game-ending double play Saturday but hit a 485-foot homer, his second longest since Statcast began tracking distances in 2015
"That's cool that it's up there," Stanton said. "I don't worry about that too much. It just put us in a good spot to win. As long as it goes over the fence, that's cool with me."
The Yankees will attempt to produce more power against right-hander Taijuan Walker, who will make his Philadelphia debut. Walker went 19-16 with a 3.98 ERA in 59 games (58 starts) for the New York Mets over the previous two seasons and parlayed his success with one of Philadelphia's bigger rivals into a four-year, $72 million contract
Walker was 2-0 with a 4.77 ERA in four starts against the Yankees as a Met, including on July 3, 2021, at Yankee Stadium when he took a no-hitter into the sixth. In eight career starts against the Yankees, Walker is 2-3 with a 4.07 ERA
Nestor Cortes, who tweaked his hamstring early in spring training, begins his second full season in New York's rotation after last year's breakout season. Last year, the left-hander was 12-4 with a 2.44 ERA, the third lowest by a Yankee with at least 25 starts since 1969.
Cortes owns a 2.25 ERA in three appearances (one start) against NL East opponents. His lone appearance against the Phillies occurred June 12, 2021, in Philadelphia, when he pitched 3 2/3 innings as a reliever, giving up one run and four hits
--Field Level Media