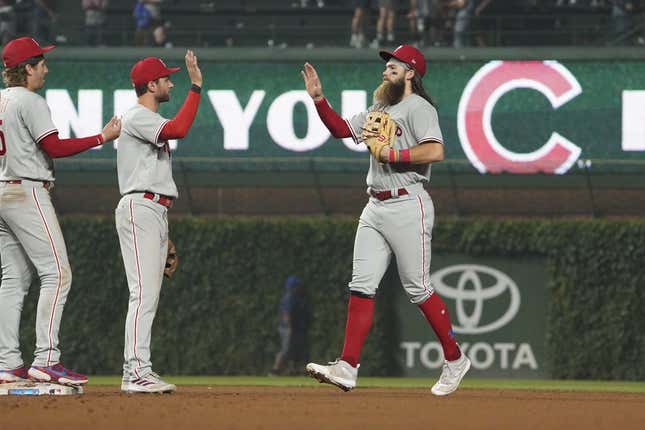 The Philadelphia Phillies are enjoying their longest road winning stretch of the season, although Aaron Nola likely needs to fare better away from home
Is Texas or Florida State a bigger national title contender? | Agree to Disagree
Meanwhile, Drew Smyly must improve his recent work at home for the Chicago Cubs
Nola will look to help the Phillies record an eighth straight road win on Wednesday night against Smyly and the Cubs
After Ranger Suarez allowed one run over 7 1/3 innings and Brandon Marsh homered twice during Tuesday's 5-1 series-opening win at Chicago, Philadelphia recorded its second seven-game road winning streak in as many seasons.
Nola (6-5, 4.38 ERA), meanwhile, went 2-1 during his first four road starts this season, but is 1-2 with a 5.91 ERA in the past five away from home. However, he has completed six innings in eight of nine road starts this season.
The right-hander is coming off one of his better 2023 efforts on Thursday, when he allowed two hits and two walks over six scoreless innings in a no-decision against the Atlanta Braves.
"I think the location, and getting ahead of guys was a key," Nola told The Trentonian.
"You've got to keep trying to pound the zone and making good pitches."
Nola is 5-2 with a 4.44 ERA in eight career starts against the Cubs. He also stood out against Chicago at home during a 12-3 win on May 20, allowing only a two-run homer to Dansby Swanson and three other hits while striking out 10 through seven innings
Marsh, meanwhile, is 12-for-20 with five RBIs in his past six games after going 1-for-16 in the previous four.
"(Doing) nothing really different, just stuck to the routine and the process," Marsh told NBC Sports Philadelphia.
Marsh has never faced Smyly (7-4, 3.38), who hasn't pitched since June 19 due to the way things have worked out with the Cubs' schedule involving their recent travel to England
The left-hander overcame a season-high five walks and three hits over five scoreless innings of an 8-0 win at Pittsburgh in his most recent outing.
"That's as hard as I've seen him work in a while, to be honest," Chicago manager David Ross said. "But, he continued to pitch."
Smyly went 2-0 with a 2.42 ERA in his first five home starts of 2023, however he has yielded 10 runs and 16 hits over 10 2/3 innings while splitting his last two at Wrigley Field. Smyly has never faced the Phillies in Chicago but is 1-0 with a 3.54 ERA in five games (four starts) against them
While Philadelphia's Alec Bohm is 4-for-7 versus Smyly, teammates Nick Castellanos, Trea Turner and ex-Cub Kyle Schwarber are a combined 14-for-44 (.318) against him.
Cody Bellinger is 4-for-10 in the past three games for Chicago, which has lost two straight after winning nine of its previous 10 games. However, he and teammate Ian Happ are a combined 0-for-18 against Nola since the start of the 2019 season.
--Field Level Media