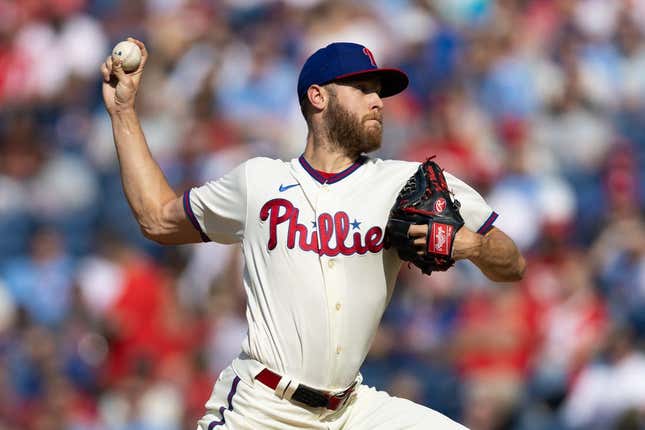 The way things have gone this season, the Philadelphia Phillies could be at the beginning of another extended winning stretch
How running an NFL team is like running a restaurant | Chef Emeril Lagasse
However, that could be a challenge considering how well the Arizona Diamondbacks have played on the road -- and overall -- in 2023
The Phillies eye a third straight win Monday night, when they host the Diamondbacks, who have won seven of the last nine, and lost just one road series this season
From April 26-29, Philadelphia won four in a row, then dropped six straight. However, the Phillies followed that skid with five consecutive wins before losing another five in a row. They ended their latest slide with a 12-3 home rout of the Chicago Cubs on Saturday, then won the three-game set with a 2-1 victory on Sunday
"It's just baseball," outfielder Kyle Schwarber told the Phillies' official website. "Our job is to come in every day, be prepared and ... put our best foot forward
"That's the beauty of this game."
Inconsistency has been an issue for scheduled Phillies starter Zack Wheeler (3-3, 4.06 ERA). The right-hander has allowed two or fewer earned runs in four of his nine starts, but also yielded four in four other outings, and completed seven innings just once in 2023
On Tuesday at San Francisco, Wheeler allowed two runs each in the third and fourth innings, plus nine hits, while striking out eight, over six innings of a 4-3 loss.
"(Wheeler) pitched better than his line, for sure," Phillies manager Ron Thomson said
Wheeler has been solid while going 5-2 with a 2.95 ERA in nine starts versus Arizona. He yielded just two hits and fanned eight without a walk during a 4-0 home victory over the Diamondbacks last season
Arizona's Christian Walker is 6-for-11 with a homer against Wheeler. The first baseman had two hits with three RBIs during Sunday's 8-3 win at Pittsburgh, and has five with six RBIs in his last five games following a 4-for-28 stretch.
"I know I feel competitive, and I feel good, and am helping the team right now," Walker told the Diamondbacks' official website
"Outside of that, acknowledging the number doesn't feel like ... doesn't really add much to it."
One of the league's biggest surprises at seven games above .500, Arizona has averaged 5.4 runs and clubbed 13 home runs during its current 7-2 stretch. Perhaps most impressive, the Diamondbacks are 13-10 on the road, where they went 4-2 at Oakland and Pittsburgh to open this nine-game trip
Arizona's only losing road series came at Miami from April 14-16.
Following back-to-back starts where he allowed two runs apiece and completed 12 2/3 total innings, scheduled Diamondbacks starter Tommy Henry (1-1, 5.00 ERA) yielded four runs, six hits, including two homers, and three walks, while lasting 4 2/3 during Tuesday's 9-8, 12-inning loss at Oakland. The left-hander's only previous appearance against the Phillies was also rocky, allowing seven runs, eight hits and four walks in four innings of Arizona's 18-2 loss on Aug. 31, 2022
Schwarber, Bryce Harper and Alec Bohm are a combined 4-for-8 against Henry. Teammate Bryson Stott has never faced Henry, but after breaking a scoreless tie Sunday with his pinch-hit, two-run homer in the seventh inning of the Phillies' win over the Cubs, he is batting .344 with two home runs and six RBIs during an eight-game hitting streak
--Field Level Media