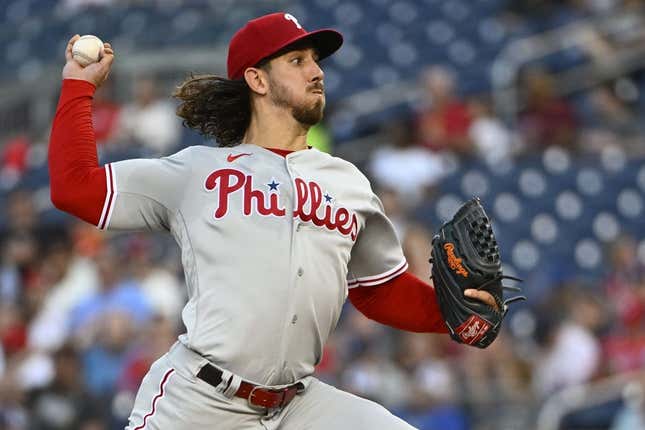 The Philadelphia Phillies seemingly don't have a weak link in their powerful lineup.
How running an NFL team is like running a restaurant | Chef Emeril Lagasse
That point was proven again in a clutch come-from-behind 4-3 victory over the visiting Giants on Tuesday. Trea Turner, who had been 0-for-4, hit a walk-off, two-run single off San Francisco closer Camilo Doval with one out in the bottom of the ninth inning.
Philadelphia will now go for the three-game series sweep on Wednesday.
The Phillies lead the Giants by four games for the first wild-card spot in the National League.
"That's why our lineup is tough," Turner said during a postgame interview on NBC Sports Philadelphia. "It doesn't matter where we are in the order."
After struggling for much of the season in the first year of an 11-year, $300 million deal, Turner has remained hot through the month of August.
"Tough closer. Got the job done," Turner said. "That was awesome."
Bryce Harper hit a two-run home run and Bryson Stott added two hits for the Phillies. Stott was hit by a pitch on the elbow in the ninth, but manager Rob Thomson said that X-rays weren't taken.
In the end, the Phillies came up with a huge win.
"They fight. They're resilient," Thomson said. "They compete 'til it's over."
The Phillies will hand the ball to Michael Lorenzen (7-8, 3.57 ERA) on Wednesday.
In Lorenzen's last start, he allowed eight hits and seven runs (six earned) in 3 1/3 innings against Washington on Friday. It was his first start since tossing a no-hitter against the Nationals.
"I was just out of sync," Lorenzen said. "I was having to think way too much about what my body was doing to make certain pitches."
Lorenzen is 0-1 with an 8.22 ERA in eight career games (two starts) against the Giants.
On Tuesday, Joc Pederson hit a two-run double and Thairo Estrada added three hits. But Doval suffered his sixth blown save and the Giants trudged to the clubhouse following a difficult loss.
The Giants fell to 1-4 on their current six-game road trip.
"We had some moments earlier in the game when we had a chance to get a big hit and we didn't do that, either" San Francisco manager Gabe Kapler said. "We win as a team and we lose as a team and in this case, we lost as a team."
Alex Cobb (6-5, 3.75) is scheduled to start for the Giants on Wednesday.
Cobb gave up eight hits and four runs in 5 2/3 innings on Friday in his last start against the Atlanta Braves.
"It wasn't anything good, wasn't anything terrible, but just really trying to compete, fill up the zone," Cobb said. "Feel like I did that, for the most part, until probably that last inning, but gave up some hard-hit balls early and then felt like I settled down after that. But obviously, not the outcome we're looking for."
Cobb is 1-1 with a 2.82 ERA in four career starts against the Phillies.
According to multiple reports, the Giants signed former All-Star shortstop Paul DeJong, and he's expected to join the team for Wednesday's game. The Toronto Blue Jays designated DeJong for assignment on Saturday.
The 30-year-old DeJong would provide bench depth, especially since Brandon Crawford went on the injured list Sunday with a strained left forearm.
—Field Level Media