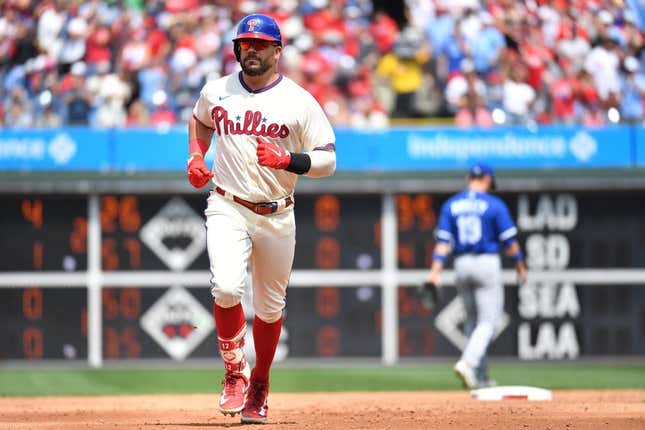 If the Philadelphia Phillies were looking to boost their postseason chances by working toward a wild-card spot in the National League, their recent schedule has offered them the perfect chance to do so
Is Texas or Florida State a bigger national title contender? | Agree to Disagree
Philadelphia just took two of three games from the Kansas City Royals, who own the second-worst record in the American League. The Phillies will look to keep beating up on lesser opponents when they open a four-game series with the visiting Washington Nationals on Monday
Washington is 22 1/2 games back in the NL East, but Philadelphia knows that there are no gimmes in baseball. After all, Kansas City had won seven straight games until the Phillies brought them back down to earth by posting a 9-6 victory on Saturday
The Nationals are 6-2 since July 29 and have won four in a row after a three-game sweep of the Cincinnati Reds this past weekend
Philadelphia outfielder Kyle Schwarber went deep against the Royals on Sunday, giving him at least one home run against all 30 major league teams
Schwarber has seen enough in his nine-year career to know that no opponent can be taken lightly. He's not looking for an easy ride against Washington
"To get where we want to be, we have to go out there and take care of business against the Nationals," said Schwarber, whose homer on Sunday was his 28th of the season. "Right now, our at-bats are going pretty good
"But the Nationals are coming in and they're playing pretty well. ... If we play like we're capable, obviously it's a good opportunity ahead of us.
The Nationals will look mostly unchanged to the Phillies compared to when the two teams last met on July 2, but Washington did trade one of its best hitters, third baseman Jeimer Candelario, to the Chicago Cubs before the Aug. 1 trade deadline
But Washington held on to right fielder Lane Thomas and designated hitter Joey Meneses. Thomas is batting .290 with 19 home runs and 65 RBIs, while Meneses is a .279 hitter that has slugged nine homers while driving in 60 runs
The Nationals also held on to closer Kyle Finnegan, who notched his 17th save in Washington's 6-3 win over the Reds on Sunday
"I've had my ups and downs, but if I have a bad streak, I usually go on a good streak," said Finnegan, who has converted his last six save opportunities. "Riding a good streak, so I'm trying to keep it going as long as I can.
Right-hander Trevor Williams (5-6, 4.72 ERA) will start for Washington in the series opener, while the Phillies will counter with left-hander Ranger Suarez (2-5, 4.01)
Williams has seen his season go south since sporting a 3.93 ERA at the end of May. He has given up 12 homers since then while posting a 5.53 ERA across 11 starts
Suarez has been a little better, logging a 4.66 ERA over his last five starts. The southpaw has had trouble missing bats during that stretch -- surrendering 39 hits in 29 innings -- but he has kept the ball in the park, giving up just three homers
Williams is 1-3 with a 5.24 ERA in eight career appearances (six starts) versus Philadelphia, while Suarez is 6-1 with a 3.80 ERA across 13 career outings (six starts) against the Nationals
--Field Level Medi