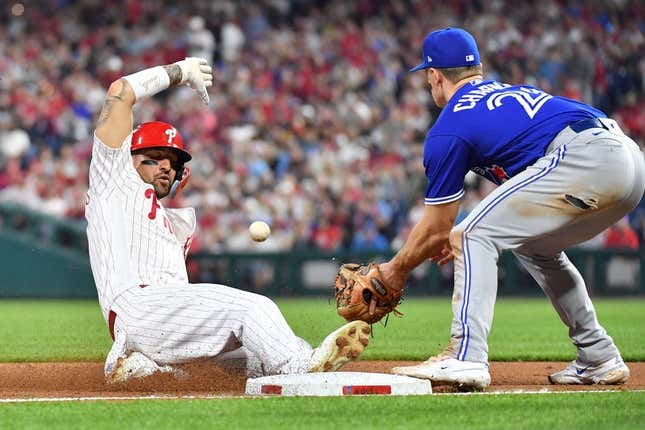 Following a frustrating six-game losing streak, the Philadelphia Phillies have bounced back to win two straight
Aaron Rodgers should go full Joe Namath | Comedian Bert Kreischer
They will aim for a third consecutive victory on Wednesday when they host the Toronto Blue Jays in the finale of a two-game series
The Phillies defeated the Boston Red Sox 6-1 on Sunday, had an off day and came back with an 8-4 win over the Blue Jays on Tuesday
Nick Castellanos led the way vs. Toronto with a home run, a double, a single and two RBIs while Brandon Marsh added a two-run double.
"Overall, I thought we played an outstanding game in all facets," Philadelphia manager Rob Thomson said.
After a subpar season in 2022, Castellanos has been arguably the Phillies' most consistent hitter this season. In the fourth inning on Tuesday, he was brushed back by Alek Manoah before lofting a two-run shot down the left field line
"Sometimes the pitch high and tight is just what I need," Castellanos said in a postgame interview on NBC Sports Philadelphia. "You're really focused on digging back in and getting ready to hit."
The news wasn't all positive for the Phillies. Kyle Schwarber fouled a ball off his left foot in the sixth inning and ultimately had to be replaced by Dalton Guthrie in left field to open the seventh
The Phillies announced that Schwarber sustained a left foot contusion and that X-rays were negative. He will be re-evaluated on Wednesday
"I didn't want to take any chances," Thomson said. "I wanted to get him looked at."
Philadelphia will hand the ball to Zack Wheeler (3-2, 4.26 ERA) on Wednesday. Wheeler has struggled in four career starts against the Blue Jays, going 0-2 with a 6.63 ERA
The Blue Jays arrived in Philadelphia after sweeping a three-game series in Pittsburgh, outscoring the Pirates 22-3
In the opener against the Phillies, Bo Bichette homered, doubled and drove in two runs and Kevin Kiermaier had two hits and two runs. However, five Toronto pitchers combined to walk to seven batters
The Blue Jays went 1-for-10 with runners in scoring position and left seven runners on base
"We were one hit away, and it seems like that (is a pattern) for the first part of the year here," Toronto manager John Schneider said. "But they got good pitchers and we were one at-bat and one swing short tonight."
Kevin Gausman (2-3, 3.86 ERA) is scheduled to start for the Blue Jays on Wednesday
Gausman was ineffective in his latest outing, allowing 10 hits and eight runs in 3 1/3 innings against the Boston Red Sox on Thursday. The eight runs tied a career worst for Gausman.
"The split wasn't getting into the zone as it had been," Schneider said after that game. "A lack of command on some of the fastballs, but they were laying off of it."
Gausman is 1-3 with a 4.33 ERA in seven career games (six starts) against the Phillies
Toronto's Vladimir Guerrero Jr. returned on Tuesday after a two-game absence caused by left wrist soreness and went 0-for-2 with two walks. George Springer also came back from a viral infection and struck out in a pinch-hitting appearance.
--Field Level Media