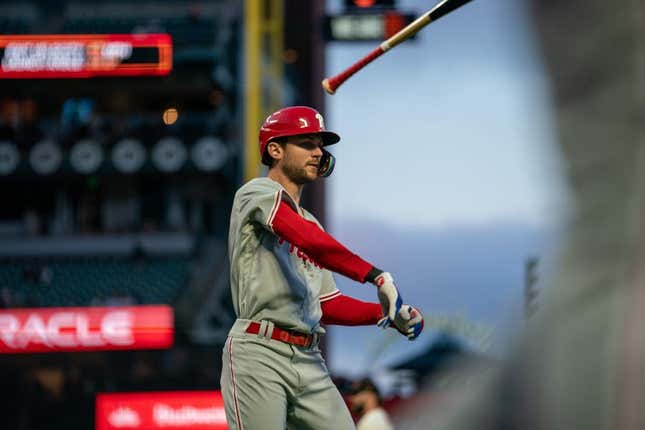 Following an encouraging five-game winning streak, the Philadelphia Phillies have dropped two straight
Air Jordans are more American than McDonald's French fries | Deon Cole's Ultimate Sports Fantasy
During the defeats to the Colorado Rockies and San Francisco Giants, the Phillies went hitless in 22 at-bats with runners in scoring position
The Phillies will look to rebound in the middle game of a three-game series against the host Giants on Tuesday night
After going 0-for-14 with runners in scoring position in a 4-0 loss in Denver on Sunday, the Phillies went 0-for-8 in a 6-3 setback at San Francisco on Monday
"We had some opportunities," Phillies manager Rob Thomson said. "In the end, we didn't convert with runners in scoring position.
If they are going to start a new winning streak, the Phillies also must improve on defense
Bryson Stott committed the first error of his career as a second baseman on Monday, dropping a toss at the bag. Right fielder Nick Castellanos dropped a fly ball that later was ruled a sacrifice fly. Both miscues led to a six-run second inning for the Giants
Thomson said of Stott, who had played 84 career games at second base before his initial miscue, "He's played great; just one of those plays where it popped out of his glove."
Stott added, "I just missed it."
The Phillies will look to pull things together on Tuesday behind right-hander Zack Wheeler (3-2, 3.80 ERA)
In Wheeler's latest start, on Wednesday against the Toronto Blue Jays, he allowed just three hits and one run in seven innings. He struck out seven and walked one in a no-decision.
"Felt good," Wheeler said after the outing. "Pitched like I was capable of, and the defense had my back."
Wheeler is 2-2 with a 3.54 ERA in eight career starts against the Giants, who selected him in the first round of the 2009 draft
San Francisco, after losing three straight to the Arizona Diamondbacks to conclude a four-game series at Phoenix, came back with a confidence-boosting victory over the Phillies on Monday
Michael Conforto continued his recent resurgence for the Giants, contributing two hits, including a three-run home run. He was batting .168 before going 7-for-15 with three homers and five RBIs in his past four games
Conforto was scuffling at the plate when he realized he had to put in extra time in the cage.
"It's good to see some of the hard work pay off," Conforto said in a postgame interview on NBC Sports Bay Area. "That was a big homer. ... That was a great team effort. Glad to come away with a win."
The four-game surge has lifted Conforto's average to .205.
"It's huge, especially when I'm trying to pull back and not swing so hard and the ball's leaving the park," Conforto said. "Just trying to see it a little longer."
He will attempt to provide more support on Tuesday for right-hander Alex Cobb (3-1, 1.70 ERA), who owns the best ERA in the National League. Cobb has made two starts this month, throwing seven shutout innings against the Milwaukee Brewers on May 6 and then 7 1/3 scoreless innings against the Arizona Diamondbacks on Thursday.
Cobb is 1-1 with a 2.37 ERA in three career starts against the Phillies
The Giants placed outfielder Joc Pederson on the 10-day injured list Monday due to a bruised right hand. Pederson missed nine games in April due to a right-wrist ailment. Mike Yastrzemski, recovered from a hamstring ailment, came off the IL to fill the roster vacancy
--Field Level Media