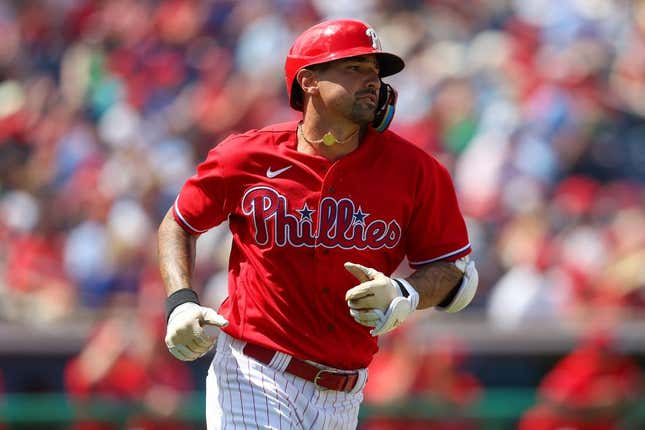 Without Bryce Harper and Rhys Hoskins, the Philadelphia Phillies were struggling to hit home runs
Bass' ERA stinks, but not compared to who he is off the mound | Worst of the Week Countdown
Yet manager Rob Thomson remained unconcerned saying they would "come in bunches."
Thomson was correct.
The Phillies ripped seven home runs over the weekend against and not coincidentally, they won three straight against the Colorado Rockies
Following an off day, the Phillies will look for their fourth consecutive victory Tuesday when they host the Seattle Mariners
Nick Castellanos hit his first two home runs of the season Saturday and the Phillies followed with four more Sunday for a total of seven during the weekend
Bryson Stott, Kody Clemens, Brandon Marsh and Trea Turner each hit one homer in Sunday's 9-3 victory over Colorado.
And Harper could be back in the next few weeks from Tommy John surgery.
The defending National League champion Phillies started slow, but are now just one game below .500 at 11-12
"At the beginning of the season, it felt like we'd get a one-hitter from our pitchers and we'd get shut out or we'd score eight and give up 10," Stott said. "But that's just baseball, and putting it all together at once is what good teams do. And we think we're a good team."
The Phillies will send left-hander Bailey Falter (0-3, 4.50 ERA) to the mound as he searches for his first victory this season
Falter, who turned 26 on Monday, gave up one run over 4 2/3 innings in his lone career start against the Mariners last season
Philadelphia optioned Cristopher Sanchez to Triple-A Lehigh Valley after Saturday's game and recalled Yunior Marte to strengthen the bullpen.
The Mariners will arrive in Philadelphia following a strong series in which they won two of three against the St. Louis Cardinals. Seattle fell 7-3 in the finale on Sunday
Jarred Kelenic continued to be locked in at the plate, with the left-handed hitter collecting an opposite field home run for the second time in two days.
"It's tough to take a down-and-in pitch oppo," Kelenic said. "And when you can do that, you're catching the ball deep and staying through it. So that's ideally where you want to be. But yeah, today felt pretty similar. I took a look, and it was basically in the same spot as it was yesterday, just a different pitch. I'm in a good spot."
Mariners manager Scott Servais said that he has been impressed with Kelenic's ability to cover the entire plate and hit the ball where it was pitched
"What made Jarred (special) is that it's something he has worked at doing," Servais said. "Instead of rolling that ball over or trying to pull that ball or hitting it to the pull side. ... He could not do that a year ago."
Kelenic leads the Mariners with six home runs and a .319 batting average. But he's far from satisfied
"I mean, I'm not talking about it," Kelenic said. "I haven't talked about it really much. If there's anything I know about this game, it's about, 'What have you done for me lately?' It's not about, 'What have you done in the past?' I've moved on. It is what it is, and I'm going to keep going."
Logan Gilbert (1-1, 3.57 ERA) is scheduled to start for the Mariners. In one career start against the Phillies, Gilbert is 0-1 with a 7.20 ERA
This is the start of a nine-game road trip for the Mariners that also heads to Toronto and Oakland
--Field Level Media