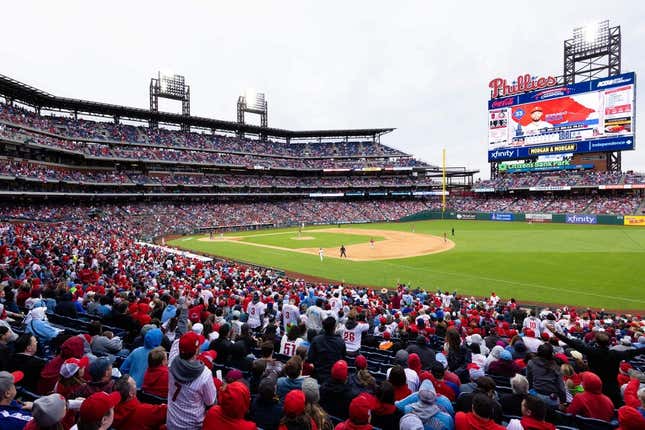 The Philadelphia Phillies announced Monday that a home game against the Atlanta Braves originally scheduled for Thursday, Sept. 14 was moved to Monday, Sept. 11
Chris Paul should ride the bench next season | Keep it a Buck(et)
The move came after the NFL released its regular-season schedule last week, revealing that the Philadelphia Eagles' home opener will be a "Thursday Night Football" game on Sept. 14 against the Minnesota Vikings. That will be the first Eagles home game since they reached Super Bowl LVII in February.
The Phillies' ballpark and the Eagles' stadium share a parking lot in the same sports complex
Both the Phillies and the Braves had Sept. 11 off, so the move was seamless. Their three-game series now will take place Sept. 11-13 instead of Sept. 12-14
"Thanks to the collaborative efforts of the Braves, Major League Baseball and the reigning NFC champion Philadelphia Eagles, we were fortunate to be able to move our game to Monday night on September 11," Phillies executive vice president David Buck said in a statement. "This was an easy decision for all, as the move to avoid conflicting game times is a win for Philadelphia sports fans.
The Eagles also thanked the baseball teams.
"We greatly appreciate the willingness of the Phillies, the Braves and Major League Baseball to adjust their schedule," Eagles president Don Smolenski said in a statement. "In what has shaped up to be a very busy week in Philadelphia sports, this accommodation is a tremendous example of our close relationship with our friends at the Phillies. Our organizations are philosophically aligned on providing our fans the best experience possible on gameday, and this adjustment will help to alleviate any congestion concerns in the Sports Complex that arise when multiple events are held concurrently.
--Field Level Media