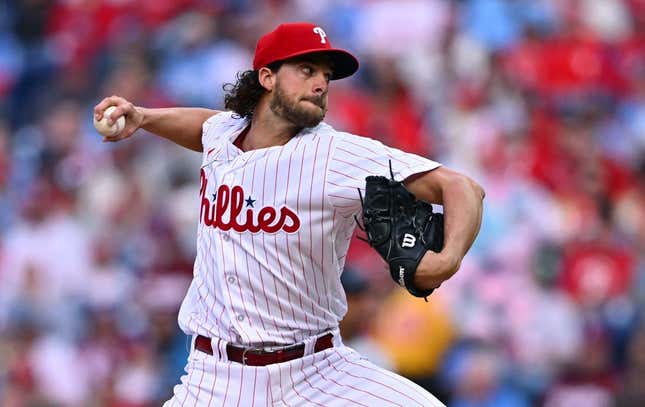 The Philadelphia Phillies turn to a veteran starter looking to turn his season around as they aim to salvage a four-game series split with the host Cincinnati Reds on Sunday afternoon
Are the Oakland A's a failed state? | Agree to Disagree
Right-hander Aaron Nola (0-2, 7.04 ERA) takes to the mound for the Phillies. In three starts this season, he has allowed 12 runs on 20 hits over 15 1/3 innings
Nola is 4-2 lifetime with a 3.63 ERA against Cincinnati, and his most recent performance was a gem. He pitched a five-hit shutout on Aug. 25 in a 4-0 Phillies win
The Reds counter with right-hander Luis Cessa (0-1, 7.00). In two starts this season, Cessa has been tagged for seven runs and 11 hits over nine innings. Cessa is 1-2 with a 7.35 ERA in seven career appearances (two starts) against Philadelphia
Bryson Stott enters Sunday's game in Cincinnati with a 15-game hitting streak, one shy of the team record to start a season.
Bryce Harper continues to progress on the path toward a return to the Phillies. Now, that path might be shorter than originally anticipated
Phillies manager Rob Thomson said Saturday that his star slugger may not go through a minor league rehab before returning to the major league club. Harper had Tommy John surgery to repair a ligament in his right elbow in November and has been taking batting practice for more than two weeks
Harper has been taking ground balls at first base with Rhys Hoskins out, and before Friday's game, he practiced sliding feet-first, avoiding headfirst slides that could aggravate his surgically repaired elbow.
"I really don't know if he will go on an assignment," Thomson said. "If he's swinging the bat well and he feels good, I say why waste it?"
"At that point, I just need to get back," Harper said. "It's good talent down there. It's nothing against that at all. But big-league talent's a little bit different. A big-league game is a little bit different. The more big-league talent I get to see, the better it's going to be for me."
Before Saturday's game with the Phillies, the Reds recalled right-hander Casey Legumina from Triple-A Louisville and placed right-handed starter Connor Overton on the 15-day injured list with a strained right elbow
Reds manager David Bell also announced that 29-year-old Luke Weaver (right elbow) will be activated from the injured list and take Overton's place in the starting rotation on Wednesday against Tampa Bay
In four Triple-A relief appearances, Legumina -- acquired last November from Minnesota for Kyle Farmer -- posted a 1.59 ERA over 5 2/3 innings. In his major league debut Saturday against the Phillies, Legumina fanned three, walked one and allowed one hit in two scoreless innings to finish the 13-0 rout
"What stands out about Casey the most is that he doesn't show any fear," Bell said. "His stuff is really good. The timing is right for Casey to make his debut and potentially be a big part of the bullpen."
Overton struggled in three starts for the Reds, going 0-1 with an 11.45 ERA. On Friday, he gave up five runs on five hits and three walks over just three innings in the Reds' 8-3 loss
"He knew something was off while he was pitching (Friday) night, but we didn't know for sure what it was," Bell said. "We did get to the bottom of it."
The Reds also returned slugging first baseman Joey Votto to Cincinnati from his rehab assignment at Triple-A Louisville. Votto will continue his work with the big-league club as he works back from left shoulder and biceps surgery last summer
--Field Level Media