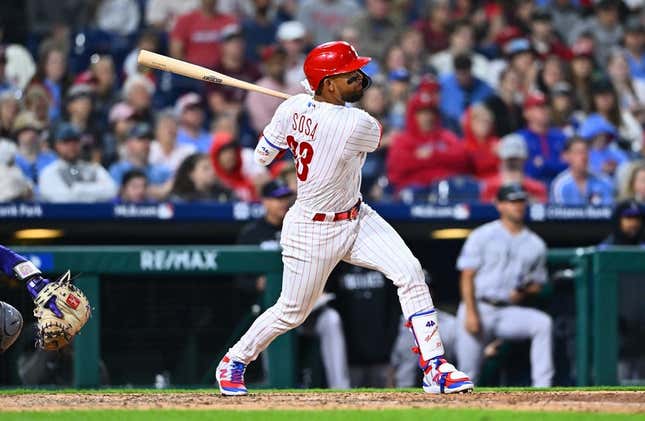 Edmundo Sosa provided a huge lift -- on offense and defense -- when the Philadelphia Phillies needed it the most on Friday
Does Jimmy Butler have the best NBA Finals origin story? | Agree to Disagree
He and the Phillies will look for more of the same on Saturday when they continue a four-game series against the visiting Colorado Rockies
Sosa exited the April 15 game due to back soreness, and it appeared he might have to go on the injured list.
Sosa was unavailable through Wednesday, then sat out Thursday for precautionary reasons before returning Friday to hit the go-ahead single in the eighth inning of the Phillies' 4-3, come-from-behind win over the Rockies. Sosa also caught the final two outs at third base, including a line shot by C.J. Cron
"I'm very happy to be here," Sosa said in a postgame interview on NBC Sports Philadelphia. "I worked really hard with the trainers. They worked really hard with me. I'm happy to contribute to the win."
Sosa didn't crush the ball against Brad Hand, but he got enough of it to provide the decisive hit.
"I just wanted to make contact," Sosa said. "It was a short swing and I was able to put good contact."
Then his defense took over in the ninth.
"It was great to have Sosa back," Phillies manager Rob Thomson said
Philadelphia's Kyle Schwarber launched a solo home run that tied the game in the seventh. The Phillies then received a spark from Seranthony Dominguez with a scoreless eighth, and Jose Alvarado tossed a dominating ninth for his third save in four chances
The Rockies had won the series opener 5-0 on Thursday to snap an eight-game losing streak. The Phillies have won four of their past six games
The Phillies will hand the ball on Saturday to Cristopher Sanchez, who was added as a sixth starter thanks to a rainout in Chicago on Monday. Sanchez, who will make his season debut, has never faced the Rockies. He has been out all season due to a strained left triceps
Over the past two seasons with Philadelphia, Sanchez went a combined 3-2 with a 5.47 ERA in 22 games (four starts).
The Rockies will look to rebound following the disappointing loss
Ryan McMahon blasted a three-run homer in the first inning, but Colorado was unable to hold on for the victory, finishing with only four hits.
"We just didn't hit much after the first inning," Rockies manager Bud Black said
The frustration was evident as the usually mild-mannered Black was ejected by plate umpire Alex Tosi in the fourth after J.T. Realmuto appeared to be hit by a pitch to load the bases.
The Rockies had already used their challenge and it was unclear whether Realmuto was grazed on the elbow. Black argued for several minutes before being tossed by Tosi
Kyle Freeland (2-1, 3.80 ERA) is scheduled to start for the Rockies on Saturday. In his last start, Monday against the Pittsburgh Pirates, the left-hander was shelled for eight hits and nine runs, seven earned, in 2 2/3 innings
"They were attacking early, and they were able to get fastballs in early counts," Freeland said. "Any advantage counts, and I wasn't able to put them away."
In Freeland's career against the Phillies, he is 1-2 with a 3.75 ERA in six starts
Rockies outfielder Randal Grichuk is moving closer to returning from sports hernia surgery. His return would help the team's depth. Grichuk is scheduled to play three more rehab games with Triple-A Albuquerque this weekend and then be re-evaluated
--Field Level Media