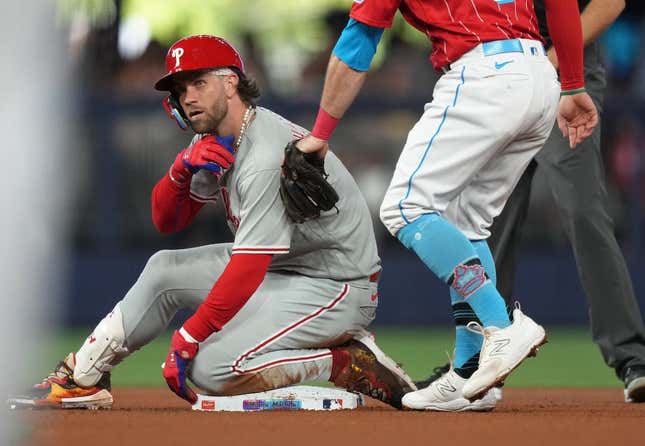 The Phillies' 13-game road win streak -- which matched a franchise record set in 1976 -- is over
How running an NFL team is like running a restaurant | Chef Emeril Lagasse
More importantly, the Phillies, who visit the Miami Marlins on Sunday to decide a three-game series, want to make sure that star DH Bryce Harper is healthy
Harper, who had elbow surgery in November, did not make his 2023 MLB debut until May 2. Then, in the third inning on Saturday in Philadelphia's streak-ending 5-3 loss at Miami, Harper was hit by a pitch on that surgically repaired right elbow.
Harper, who was hit a 90-mph sinker from Braxton Garrett, stayed in the game until he was replaced for a pinch hitter in the fifth.
After the game, Harper said he was fine. X-rays were negative, although it is unlikely he will play on Sunday.
"I don't like getting hit," Harper said. "I don't think anybody likes getting hit. But it definitely could've been worse."
Meanwhile, the Marlins -- who finished 24 games under .500 last year -- are one of the surprise teams in baseball this season
They will head into Tuesday's All-Star Game in wild-card playoff position under rookie manager Skip Schumaker, who is in line for postseason awards if his team can keep up this pace.
"It's been a really good first half," Schumaker said when asked about Miami's 52-39 record. "I think the most important part for a rookie manager and his staff is getting that buy-in and that belief that we can win.
"We all trust each other, and that's been the No. 1 goal for me."
The Marlins have two All-Stars in second baseman Luis Arraez, who leads the majors with a .388 batting average, and outfielder Jorge Soler, who slugged his team-high 23rd homer on Saturday
"Soler's been a monster," Schumaker said. "He's taking really good at-bats and looks so calm in the box. He looks so ready to crush the ball."
Miami's bullpen, which pitched four scoreless innings on Saturday, has been solid. Tanner Scott, for example, has set a franchise record for most strikeouts (64) before the All-Star Game by a reliever.
Marlins closer A.J. Puk, who picked up his 15th save on Saturday, has to feel a bit more confident. He had blown save chances in his two previous games, allowing five runs in two innings
"After a couple of rough ones," Puk said, "it's always good to get back out there and get the result that you expect."
Sunday's pitching matchup will feature Marlins lefty Jesus Luzardo (7-5, 3.32 ERA) against Phillies right-hander Aaron Nola (8-5, 4.30)
Luzardo, who leads the Marlins in wins and tops Miami's starters in ERA, has faced the Phillies four times. He is 2-0 with a 3.38 ERA against them
Nola is 5-9 with a 3.32 ERA in 21 starts against the Marlins. This season, he had an ERA of 3.58 for April, 4.93 for May and 4.06 for June, but he is 1-0 with a 1.23 ERA in July
If Nola does not throw a complete game on Sunday, the Phillies can turn to a solid bullpen that had a 26-inning scoreless-innings streak that ended on Saturday
--Field Level Media