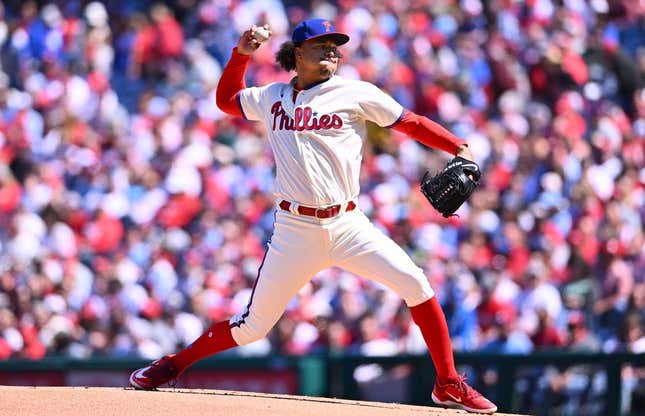 A pair of teams struggling for early-season wins meet again Friday when the Cincinnati Reds host the Philadelphia Phillies in the second game of a four-game series
Air Jordans are more American than McDonald's French fries | Deon Cole's Ultimate Sports Fantasy
The teams have split their first four meetings, and another pitching rematch is on tap.
The Phillies, who have dropped nine of their first 13 games and three in a row, will send right-hander Taijuan Walker (0-1, 6.00 ERA) to the mound against Cincinnati right-hander Connor Overton (0-0, 10.13). The same pair faced off on Sunday in Philadelphia
Walker held the Reds to two runs on three hits over 4 2/3 innings before Cincinnati rallied in the ninth for a 6-4 win
The Reds have won both of Overton's starts this season, despite the starter allowing nine runs over 14 hits in eight innings. On Sunday, Overton was in line to pick up the loss, having yielded four runs and six hits over four innings, before Cincinnati's comeback
Overton has no decisions and a 10.80 ERA in two career outings, both starts, against Philadelphia. Walker is 2-1 with a 4.98 ERA four lifetime appearances, all starts, against the Reds
Cincinnati took the opener of the current series 6-2 on Thursday, snapping a three-game losing streak in the first game of a seven-game homestand. The Reds earned just their second win in eight games
Once a top prospect for the Reds, Nick Senzel was grateful just to be back in the majors on Thursday with the team that drafted him second overall in 2016. Senzel went 0-for-4 in his season debut
On Sept. 21 against the Boston Red Sox, he fractured his big left toe running into a wall chasing a J.D. Martinez fly ball.
Senzel had surgery on his toe in November and was confined to a boot and scooter most of the offseason. He didn't play in spring training until the final week of March. Instead of beginning the season with the Reds, he started with Triple-A Louisville, batting .240 with one homer while playing three positions
"I didn't really get much of a spring training. It was good to get 2 1/2 weeks of games and at-bats," Senzel said. "The more I was out there, the more comfortable I was feeling."
"I took to (left field) pretty well. It was a good challenge for me. I think playing outfield quite a bit and moving over worked to my benefit. I think it was good to be out there."
The Phillies might get superstar slugger Bryce Harper back sooner than later after offseason Tommy John surgery on his right elbow. However, his return might be predicated on playing a different position
Harper worked pregame on Thursday in Cincinnati at first base, taking grounders and throws from infield coach Bobby Dickerson.
"Bryce puts a lot of work in. He's got as good as a chance as anybody to do it," Phillies manager Rob Thomson said of a successful position switch. "He wants to do it.
Harper has been working on the first base skills ever since volunteering when Rhys Hoskins went down late in spring training with a torn left anterior cruciate ligament.
The Phillies are desperate to get Harper's bat back in the middle of a lineup that has been productive at the top with Bryson Stott but inconsistent in the lower third. Harper's return before midseason would provide valuable depth
"I don't have a sense of that," Thomson said of a timetable for Harper to be back in the lineup. "I have never really gone through this before in all my years. I'm not sure how long it's going to take him to play the outfield or how long, if he plays first base, it will take."
Stott had a bunt single in the ninth inning on Thursday to extend his hitting streak to 13 games to start the season.
--Field Level Media