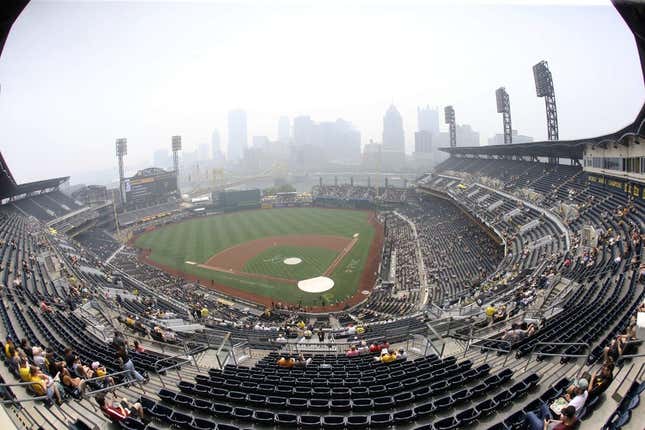 Air quality concerns stemming from smoke drifting from Canadian wildfires led the Pittsburgh Pirates to delay the start of Thursday's game with the San Diego Padres
Is Texas or Florida State a bigger national title contender? | Agree to Disagree
But the Pirates opted to play the game after consulting with medical experts, the team said, with a delay of 45 minutes
"After discussions with MLB, MLBPA, we have made the decision to move forward with our game today," the team said. "Today's game will begin at 1:20PM. We will continue to closely monitor the air quality index levels around the ballpark and respond accordingly."
On Tuesday night, the Chicago Cubs hosted the Philadelphia Phillies at Wrigley Field under similar conditions and also considered postponement. The Air Quality Index at first pitch was 254, slightly better than the 262 in Pittsburgh on Thursday, but the Cubs, Major League Baseball and the Players Association all agreed to move ahead.
The air quality was rated "dangerous" in Pittsburgh and surrounding areas on Thursday afternoon due to smoke and haze that limited visibility and created a dense layer of smoke beyond the outfield at PNC Park at the time of the announcement.
Accuweather warned of "fine particulate matter" or "inhalable pollutant particles with a diameter less than 2.5 micrometers that can enter the lungs and bloodstream, resulting in serious health issues. The most severe impacts are on the lungs and heart. Exposure can result in coughing or difficulty breathing, aggravated asthma, and the development of chronic respiratory disease."
According to Accuweather, those exact conditions were measured at the ballpark around the time of the original scheduled first pitch.
--Field Level Media